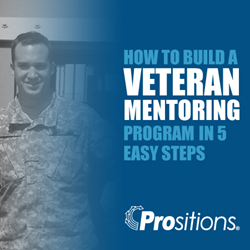 We are going to discuss the challenges veterans face when transitioning back into the civilian workforce and how an employee-provided mentoring program can help bridge that gap.
Des Moines, IA (PRWEB) January 28, 2016
On Wednesday, February 17th from 11:00am to 12:00pm CST, Prositions is hosting a free webinar titled "How to Build a Veteran Mentoring Program in 5 Easy Steps." The webinar is based on extensive research, observations, and best practices gleaned from dozens of Prositions' successful veteran initiatives. It is designed to provide valuable takeaways for veteran program managers, HR professionals, and other interested participants to use in the creation and adoption of their own veteran mentoring initiatives.
"We believe creating a mentoring program is one of the most valuable tools an organization can use to help veterans," stated Frank Russell, CEO at Prositions, Inc. "A well-designed and supported program can deliver significant benefits and ROI for the organization. The challenge is knowing which actions are effective and results-driven. That's where this webinar can help."
Mentoring programs tailored specifically for veterans have proven to be effective in supporting their success in the civilian workforce. This webinar will outline five key steps to help organizations build an effective mentoring program along with strategies to implement this type of veteran initiative.
"This new webinar will provide value to every participant, regardless of where they are in the mentoring program process," assured Craig Robbins, webinar leader and Director of Talent Development Solutions at Prositions, Inc. "We are going to discuss the challenges veterans face when transitioning back into the civilian workforce and how an employer-provided mentoring program can help bridge that gap. I know from personal experience, having transitioned back into the civilian workforce more than once, that it is extremely important to have someone who can answer your questions and provide guidance and support in the areas you need it most."
Since 2011 Prositions has been at the forefront of the growing movement to mentor in the workplace. Additionally, the benefits of mentoring can have a significant impact on the veteran populations within these organizations. In 2012 Prositions launched its original ProVeteran Program to help returning veterans find jobs in the civilian workplace. The program's success led to its endorsement by the Employer Support of the Guard and Reserve (ESGR). In January of 2015, Prositions expanded this outreach program to offer its new software application, MentorString, free to any organization that wants to coach and mentor veterans on the job. To date, the ProVeteran Program has assisted thousands of veterans nationwide.
To register for the limited-seat webinar, please click here.
About Prositions
Prositions, Inc. is the world's leading mentoring consulting firm and the only company to offer a complete range of consulting, software, content and service solutions. By combining the power of technology with an international network of mentoring experts, Prositions is revolutionizing the way organizations grow and develop talent. MentorString, their award-winning cloud-based software application enables organizations to leverage virtual mentoring, engage in secure collaboration, and access high quality individual development plans with content from industry leading authors and producers. Their latest self-paced training program, Make Mentoring Count by author Dr. Lois Zachary, is rapidly becoming the industry standard for the development of mentoring skills. For more information about Prositions, visit http://www.prositions.com.