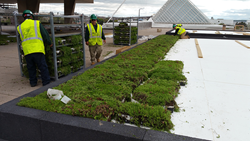 The new planted roof will provide protection for the museum by acting as a protective shield from the elements
MILWAUKEE, WI (PRWEB) February 24, 2016
The recently renovated Milwaukee Art Museum is drawing rave reviews for the art on the walls, but most patrons don't realize they're also enjoying a cutting-edge redesign of what's right over their heads – a 3,840 square foot green roof. The new LiveRoof® Hybrid Green Roof System is engineered to provide a host of aesthetic and environmental benefits including the extension of roof life, energy conservation, and stormwater management. These benefits will help ensure art patrons can enjoy visits to the Milwaukee Art Museum for years to come.
LiveRoof Global, LLC (http://www.liveroof.com), a leading horticultural science company, was chosen to provide the LiveRoof® Hybrid System for the Milwaukee Art Museum. Every LiveRoof project is engineered and grown to custom specifications based on climate conditions, engineering and other factors. The plants for the Milwaukee Art Museum were grown to full vegetation, then delivered and installed with attention to detail to provide a vibrant vegetated roof for the museum.
"The new planted roof provides protection for the museum by acting as a protective shield from the elements," according to Amber Poncé, GRP, Business Development Manager, LiveRoof, LLC. "Green roofs extend roof life preventing breakdown of roof materials, providing protection from wind and mechanical damage, and reducing or even eliminating cracks and leaks. The rooftop garden will protect the museum's art so many generations can enjoy its beauty and value."
"The new Milwaukee Art Museum is poised to set the standard for a twenty-first-century museum at the heart of a great city," said Milwaukee Art Museum Director Daniel Keegan. "What began as a desire to preserve the space and Collection grew into a significant renovation that transformed how our visitors experience the art, rejuvenating the building on every level."
The Museum, in partnership with Milwaukee County, transformed the visitor experience with 150,000 square feet of renovated, accessible and energy-efficient space, featuring the sustainable living room planted with drought-resistant succulents, a new HVAC system, watertight windows and energy-saving LED lighting systems.
The Milwaukee Art Museum, the largest visual art institution in Wisconsin and one of the oldest art museums in the nation, reopened Collection Galleries to the public November 24 following a massive six-year, $34 million renovation and reinstallation of its gallery space. The project is the first-ever large-scale reimagining of the Museum's extensive collection areas, designed to create an intuitive and welcoming visitor experience, showcase its world-class Collection, double the space for feature exhibitions, and make crucial infrastructure repairs.
The new green roof was installed by David J Frank Landscaping Inc. of Germantown, WI. Hunzinger Construction Co., Brookfield, WI, was the general contractor for the Milwaukee Art Museum atrium addition and renovation.
Green roofs provide natural function and beauty. A patented, subterranean modular system unites the soil and plants creating a naturally beautiful meadow-like aesthetic. The roofs provide aesthetic, environmental and social benefits.
Financial benefits can also be achieved from a vegetative roof including: extension of roof life, energy conservation, enhanced public relations, and conservation of municipal septic systems.
Photographers/Videographers Welcome –
Please contact: Allison Peck, Director of Communications & Marketing, Milwaukee Art Museum, 414-224-3246.
About LiveRoof® Global, LLC
LiveRoof®, LLC (http://www.liveroof.com) is the leading horticultural science company in the green roof industry. LiveRoof's natural function and natural beauty offer the highest level of green roof performance with ultra-low maintenance costs. Exceptional in design, function and endurance, the patented LiveRoof® Hybrid Green Roof System establishes a healthy, sustainable ecosystem that covers the rooftop with seamless, verdant vegetation. LiveRoof and its network of industry leading licensed green roof growers test and develop plants and soils designed to thrive in native climates and grow them in an environmentally responsible manner. LiveRoof has successfully installed over 2000 projects featuring more than five million square feet of green roofs in North America, Europe, Asia, and beyond. LiveRoof®. Natural Function. Natural Beauty.
Media Contact:
Mike Haynes
Marketing and Sales Facilitator
LiveRoof Global, LLC
616-935-1964
http://www.liveroof.com
About the Milwaukee Art Museum
Home to a rich collection of over 30,000 works of art, the Milwaukee Art Museum is located on the shore of Lake Michigan. Its campus includes the Santiago Calatrava–designed Quadracci Pavilion, annually showcasing three feature exhibitions, and the Eero Saarinen–designed Milwaukee County War Memorial Center.
With a history dating back to 1888, the Milwaukee Art Museum's Collection includes nearly 30,000 works from antiquity to the present, encompassing painting, drawing, sculpture, decorative arts, prints, video art and installations, and textiles. The Museum's collections of American decorative arts, German Expressionist prints and paintings, 19th-century German painting and decorative arts, folk and Haitian art, and American art after 1960 are among the nation's finest. It also holds one of the nation's largest collections of paintings by Georgia O'Keeffe. Among its most famous works are Pablo Picasso's The Cock of the Liberation and Gustave Caillebotte's Boating on the Yerres.
Visit http://www.mam.org to learn more about the Milwaukee Art Museum.
Media Contact:
Allison Peck
Director of Communications and Marketing
414-224-3246