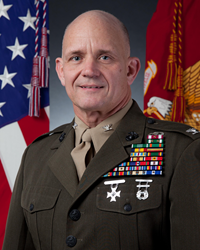 Colonel Church possesses a unique combination of military leadership experience and an academic background..make him uniquely qualified to lead Valley Forge into the future.
Wayne, PA (PRWEB) January 29, 2016
The Board of Trustees of Valley Forge Military Academy & College has unanimously approved the appointment of Colonel John C. Church, Jr., USMCR, as President. Colonel Church will take office at the end of this academic year, succeeding current President Dr. Stacey R. Sauchuk. Colonel Church is a combat decorated US Marine Corps Reservist, educator, leader, mentor, role model, and author.
William R. Floyd, Jr., Chairman of the Board of Trustees, was pleased to make the announcement stating that "Colonel Church possesses a unique combination of military leadership experience and an academic background. His prior experience at Valley Forge, serving as a Professor of Leadership and later as Dean of the College, make him uniquely qualified to lead Valley Forge into the future. The entire Valley Forge community welcomes Colonel Church back and looks forward to his inspirational leadership."
"It is a great honor and humbling privilege to be given the opportunity to lead such a storied institution as Valley Forge. I am grateful for the appointment. However, I am also thankful for the manner in which the Sister Servants of the Immaculate Heart of Mary and the Immaculata community embraced our family during my tenure here. Our family will truly miss all the Mighty Macs, but Mary Kay and I are truly thrilled to return to the VF family," said Colonel Church.
Colonel Church is an active Marine Corps Reservist, currently commanding the 3D Civil Affairs Group in Great Lakes, IL, and intends to conclude his career at the end of his command tour.
As a combat engineer officer, Colonel Church commanded Company C, 4th Combat Engineer Battalion in Lynchburg, Virginia, from where he led a deployment to the Former Yugoslav Republic of Macedonia. With 4th Civil Affairs Group, Colonel Church served in Kosovo, completed two tours of duty in Iraq, served in Afghanistan, and taught Civil Affairs to soldiers of the Armed Forces of Liberia.
In addition to being an Assistant Professor at Immaculata University he has taught at the University of North Carolina at Wilmington, the U. S. Naval War College, George Mason University, Temple University, Holy Family University, and Rosemont College. Colonel Church is a doctoral student in Mass Media and Communication at Temple University and has earned a M.A. in National Security and Strategic Studies from the U. S. Naval War College, a M.A. in Communication Journalism and Public Affairs from American University in Washington, D.C. and a B.S. in Political Science from the U.S. Naval Academy. His personal reflections of duty throughout the world have been featured in both the Washington Post and the Philadelphia Inquirer. In 2009, John's submission, "The Best Seven Months of Our Lives: The War in Iraq and the Battle in Hollywood" won first prize for "Top Graduate Competitive Papers" in the Pennsylvania Communication Association Writing Competition. In 2010, his "This I Believe" essay was featured on WHYY and National Public Radio. His essays regarding the service of minorities, what constitutes good training, and the true meaning of Memorial Day were featured in the Philadelphia Inquirer and the Mainline Suburban.
His personal decorations include: the Meritorious Service Medal with two Gold Stars, the Navy/Marine Corps Commendation Medal with two Gold Stars, the Army Commendation Medal, the Navy/Marine Corps Achievement Medal and the Combat Action Ribbon. As a midshipman John was a member of the U.S. Naval Academy's nationally ranked lacrosse program. As a junior officer, he was a member of the USMC All-Marine Rugby team on four occasions.
Colonel Church and his wife, Mary Kay, a retired Marine major, are the proud parents of John Carl Church, III (10) Travis Joseph Church (9) and twins Harper and Claire (6). He is the son of Colonel and Mrs. John C. Church, Sr., USMC (Retired) of Mount Clemens, Michigan.
Established in 1928, Valley Forge Military Academy and College (VFMAC) is an international leadership institution, comprised of an all-male boarding and day middle school (grades 7-8) and high school (grades 9-12), and a private, co-educational, accredited, two-year college. VFMC students are highly focused young women and men opting to hold themselves to a higher standard. They enroll in academic programs that lead to the AA, AS, or ABA degree. VFMAC has a long tradition of fostering personal growth through a comprehensive system built on the five cornerstones that make Valley Forge unique: academic excellence, character development, personal motivation, physical development, and leadership. From its cadet ranks, to the rifle club, to its award winning equestrian program, VFMAC teaches students leadership and responsibility in practical ways.
Valley Forge is the alma mater of such distinguished alumni as Rhodes Scholar, White House Fellow and author Westley W. O. Moore '96/'98C; author J. D. Salinger '36; U. S. Senator Warren B. Rudman '48; GEN H. Norman Schwarzkopf '52, Commander of Operation Desert Shield/Storm; former Governor of Puerto Rico, The Honorable Rafael Hernandez Colon '54; and 2003 Heisman Trophy runner-up, 2004 third overall NFL draft pick Arizona Cardinals player, Larry Fitzgerald '02.