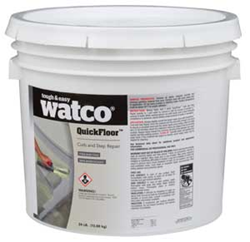 Vernon Hills, IL (PRWEB) January 29, 2016
Watco, a leading manufacturer of industrial strength flooring products, announces the launch of QuickFloor™ Curb & Step Repair, a moldable material designed for quick repairs to concrete.
Watco QuickFloor™ Curb & Step Repair has a unique putty-like consistency, giving it a huge advantage over conventional repair products. Suitable for both inside and outside use, it can be easily formed into any shape, by hand or trowel, to match the profile of the item being repaired. This makes it suitable for more challenging repairs to curved step nosings, curbs, banisters, molded stonework and concrete. QuickFloor™ Curb & Step Repair hardens quickly with an initial set time of twenty minutes. It is the perfect solution for rapid or emergency repairs to damaged vertical or horizontal surfaces. There is minimal waste, and maximum cost saving, you simply mix as much you need for individual repairs.

Sets at 50°F
Can be applied to depths up to 6"
Repairs can be smoothed off and feather edged
Fiber reinforced for improved mechanical strength
Available at Watco Floors QuickFloor™ Curb & Step Repair
About Watco:
Watco Industrial Flooring is a global manufacturer of high grade industrial concrete repair, floor coatings and anti-slip products. An international presence since 1927, Watco products are used in various industries including warehouse, industrial, schools, dairies, and sports arenas just to name a few. For more information or to order in the USA, visit http://www.watcofloors.com.
Contact Information:
Watco Industrial Flooring
info(at)watcofloors(dot)com
855-627-6350