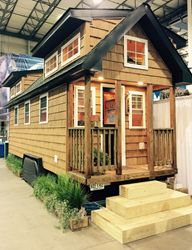 They need to feel like a home not a pull behind trailer," said Angstadt.
Fredericksburg, VA (PRWEB) January 30, 2016
Thousands of first time home buyers across the country are building their dream homes at a fraction of the cost. For the first time ever, singles and newlyweds can live off the grid wherever they please, without the confines of public utilities or traditional mortgages - in custom built tiny homes.
According to the Tiny House Community blog, there are more than 30 communities of tiny homes springing up across the country.
Based out of Fredericksburg, the Tiny House Building Company is Virginia's first company to build self-sufficient tiny homes, ranging from 12' to 32', which are permanently attached to trailers for mobility.
Tiny home designer, Kristopher Angstadt, has this to say about the potential of off-grid living: "It's easy to achieve off grid living if you have the knowledge available and are able to personalize the home. For example, you can have a cooktop, water heater and heat delivered by propane tanks. Water is held in a clear water holding tank and electricity can either be generated by using a solar panel system or by a generator. There are so many options that anybody can achieve affordable off grid living."
The options for off grid tiny homes are endless. They generally have the same options for heating, power and bathroom arrangements as conventional homes, but because they are so affordable they can do even more depending on the climate, and the kind of "green" choices the customer selects.
But still, many tiny home fanatics question the livability of the homes and how well they will be able to function in a smaller living environment.
"The biggest thing to know about tiny homes is that they need to be built to live in. That's why its important to build them with high quality materials that you would expect to see in upscale homes. They need to feel like a home not a pull behind trailer," said Angstadt. "We have built many off grid models which are designed for our clients."
Angstadt and the Tiny House Building Company offer opportunities for the public to touch and feel real tiny homes. Showings can be scheduled by appointment or the public can visit an East Coast event, like the Great American Outdoor Show coming up in Harrisburg, PA this month.
"A lot of people are fascinated by the tiny home movement right now. But while it's a unique way to keep costs down and get more minimalist, don't forget it has to match your lifestyle and needs too. Some extra money towards modification and upgrades may well be worth it!" - J. Money, a popular blogger
The Tiny House Building Company, LLC, is Virginia's first tiny house building company. They design and custom build self-sufficient tiny houses for sale that are permanently attached to trailers for mobility. They help people live big in a tiny home! For more information go to http://www.TinyHouseVA.com/.