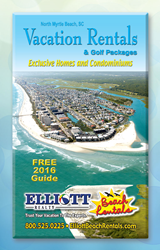 We hope everyone enjoys browsing through our brochure and finding what they need for a fun and wonderful stay.
North Myrtle Beach, SC (PRWEB) February 03, 2016
Elliott Realty, a leading professional vacation rental and real estate company, headquartered for 56 years in North Myrtle Beach, South Carolina is pleased to announce the publication of their vacation rental brochure for 2016.
Elliott Beach Rentals' extensive brochure includes property details and photos, rate and reservation information, an area calendar of events, and more for vacationers to plan ahead for the busy summer season. In the past the Elliott Beach Rentals brochure has proved valuable to thousands of vacationers who make their way to North Myrtle Beach each and every year.
"The entire Elliott team is extremely proud of our rental brochure for 2016, and we are confident it contains all the information needed for travelers to plan their North Myrtle Beach vacation," said Rick Elliott, president of Elliott Realty. "A lot of work goes into putting our brochure together every year. We hope everyone enjoys browsing through our brochure and finding what they need for a fun and wonderful stay."
The annual brochure was recently mailed out to past guests of Elliott Realty and to anyone who requested one. To sign up to receive a brochure, please call Elliott Realty at 888-669-7853 or visit NorthMyrtleBeachTravel.com. The brochure can also be viewed online.
Elliott Realty also encourages vacationers to visit their website for constantly updated promotions on spring and summer getaways and more.
About Elliott Realty
Elliott Realty has been specializing in vacation rentals, winter rentals, golf packages, and real estate sales since 1959. The company was founded on a simple premise that still rings true today: "Service You Expect. People You Trust."
Elliott Realty was founded by Dick Elliott, who went on to serve in the South Carolina Senate for a decade. Read more about his impressive life and journey.
Myrtle Beach Vacation Rentals: Elliott Realty's newest division, specializes in the professional management and marketing of vacation rentals in the Myrtle Beach area.
Elliott Beach Rentals: Trust Your Vacation To The Experts: Elliott Beach Rentals specializes in vacation rentals and professional resort rental management in the North Myrtle Beach area.
Better Homes and Garden Real Estate Elliott Coastal Living: Our involvement in the community, knowledge of the real estate market, and care in meeting the needs of our customers and clients have enabled us to enjoy a fine reputation across the state.
Myrtle Beach Golf Authority offers the best Golf Packages in the Myrtle Beach area and can accommodate large and small golf groups.
Myrtle Beach Last Minute Vacation offers the best availability and pricing to travelers who are looking to book less than 30 days in advance of arrival.
This press release was formatted and submitted by Visual Data Systems (http://www.VisualDataSystems.com), the leader in online marketing for the vacation rental industry.