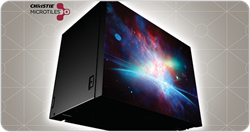 Christie's leading visual solutions have been tested and proven to effectively engage, entertain and inform viewers
BES/New Delhi (PRWEB) February 06, 2016
Christie® visual solutions for the broadcast industry is turning heads with vibrant and colorful displays at the BES Expo 2016, taking place at the Leela Ambience Convention Hotel, New Delhi from February 4 to 6.
At booth No. 27, Christie's India partner Falcon Technologies Pvt Ltd is showcasing a range of advanced, dependable and affordable visual solutions that are ideal for the broadcast arena in a simulated television studio setting. Visitors will experience the highly versatile Christie® MicroTiles® arranged in an array of four units by three units in the backdrop. Renowned for their ultra-high resolution images, color fidelity, saturation and the flexibility to be designed in almost any shape or size, MicroTiles are the ultimate digital canvas for creating eye-catching sets that are perfect for high-definition television broadcasts.
Another booth highlight is the affordable and easy-to-use Christie QuadHD84 LCD panel featuring Quad HD resolution (3840 x 2160) and true 60Hz refresh update rate for normal/natural display. Equipped with unmatched resolution and performance capabilities, the 84-inch panel offers an easily deployable and affordable Quad HD display solution. It can be easily installed as a wall-mountable or free-standing display, and is the perfect solution for presenting complex, detailed animation, data or live content for studio backdrop visualization, delivering powerful presentations or for accurate monitoring and collaborations – best suited for the broadcasting industry.
High-definition contents shown on the MicroTiles and QuadHD84 displays are driven by the Christie Spyder X20, a versatile hardware-based video processor combined with the flexibility of a universal routing switcher. Its integrated source monitoring enables simultaneous, real-time, full frame rate monitoring of all inputs. The Spyder X20 provides users with a 20-megapixel bandwidth to blend, window, mix, and scale any source format and then routes the signal to any destination device or combination of display devices – quickly and easily.
"Christie's leading visual solutions have been tested and proven to effectively engage, entertain and inform viewers with dynamic and eye-catching images in the studios of several major broadcasters in India and other parts of South Asia with unmatched performance and reliability," said Karan Singh Sawhney, director, Falcon Technologies. "We are very pleased to showcase an array of Christie products at BES Expo 2016 that are designed to engage and impress the audience with high quality visuals. With our superb track record in servicing India's broadcast industry, we're confident that more broadcasters in the region will be convinced that Christie solutions are what they need to deliver the best visuals to enthrall their viewers."
In India, major television stations trust Christie's advanced visual solutions to deliver exciting and detailed images to their audiences. Chennai's News7 Tamil, Noida city's India Today Group and the Kerala-based Malayala Manorama TV use the Christie Spyder video processor in their news studios, while Doordashan, the public service broadcaster of India and the country's largest broadcasting organization, has installed Christie FHD551-X LCD panels in its facility. Notably, News7 Tamil's video wall in the studio – made up of 170 MicroTiles arranged in a curved array of 34-by-5 units measuring over 45 feet long – is one of the longest video walls installed in India's broadcast market. Zee Group's recent deployment of the Christie FHD552-X LCD panels and Christie Spyder X20, as well as TV18 and Rajya Sabha Television's installation of Christie MicroTiles and Christie Spyder 344, have also been appreciated by the users.
Lin Yu, vice president, Christie Asia Pacific, commented, "We're very pleased that our advanced visual solutions, particularly the Christie MicroTiles and Spyder video processor, continue to be embraced by Indian broadcasters as their products of choice – offering flexibility and versatility with almost boundless application possibilities and configurations limited only by the imagination. As India's broadcast industry continues with the digitization process, there are certainly opportunities to be tapped. I'm hopeful that through the close collaboration with our valued partner Falcon Technologies, we can reach out to more TV networks and strengthen our position as one of the market leaders of the broadcast arena in this region."
About Christie®
Christie Digital Systems USA, Inc. is a global visual and audio technologies company and is a wholly-owned subsidiary of Ushio, Inc., Japan, (JP:6925). Consistently setting the standards by being the first to market some of the world's most advanced projectors and complete system displays, Christie is recognized as one of the most innovative visual technology companies in the world. From retail displays to Hollywood, mission critical command centers to classrooms and training simulators, Christie display solutions and projectors capture the attention of audiences around the world with dynamic and stunning images. Visit http://www.christiedigital.com.