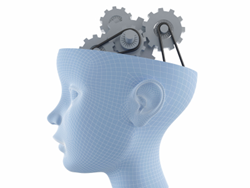 Where one person sees a mistake, the depressed person sees a disaster.
Montreal, Canada (PRWEB) January 30, 2016
Like looking through a kaleidoscope, a person's perception of the world is colored by many factors, including his or her personality, values, motivators, emotional competencies and thought processes. People who are anxious tend to view the world as frightening and ominous; people characterized by hostility view the world as cruel and humanity as cutthroat. Along the same vein, research from Queendom.com reveals that certain thought patterns, or habitual ways of thinking, can increase a person's likelihood of becoming depressed, or potentially worsen existing depression symptoms.
Collecting data from 31,444 people, researchers at Queendom focused their analyses on two groups: Those who are currently depressed, and those who are not. Analyses revealed significant contrast in thought processes:
LOCUS OF CONTROL
Depressed people attribute failure to internal causes.

Score for depressed people: 88 (on a scale from 0 to 100)
Score for non-depressed people: 34
No matter what goes wrong in their life (a failed relationship, being laid off at work, etc.), depressed people automatically blame themselves – even when the failure isn't their fault. They tend to attribute failure to internal causes, oftentimes those that are difficult to change – a lack of intelligence, strength, knowledge, skill, or other perceived ineptitude. Although accountability and taking responsibility for one's mistakes and failures is essential, people who are depressed take accountability to an extreme. This leads to low self-esteem, low self-worth, and feelings of helplessness.
CATASTROPHIC THINKING
Depressed people tend assume the worst of situations, adopting a "catastrophic" thought process.

Score for depressed people: 85
Score for non-depressed people: 38
Where one person sees a mistake, the depressed person sees a disaster. Where one person sees a molehill, the depressed person sees a mountain. Rather than assuming the best, people who are depressed find themselves reaching into the darkest recesses of their mind and envisioning the worst possible outcome to a situation. If, for example, they are called into their boss' office, they will automatically assume they've done something wrong and are in trouble. If their partner expresses that they want to have a talk, they assume a break-up is imminent. Any error, failure or worry suddenly takes on a life of its own, going from a minor blip to a major calamity, making obstacles appear all the more challenging to resolve and overcome.
ATTENTIONAL BIAS
Depressed people suffer from attentional bias.

Score for depressed people: 87
Score for non-depressed people: 41
Viewing the world in black-and-white terms, depressed people are more likely to focus excessively on, or be more sensitive to, negative comments - despite evidence to the contrary. Rather than focusing on their strengths, the depressed group tend to focus on their faults and failures. Even if their efforts or accomplishments are praised by a majority of the people in their life, one negative comment or criticism can shatter their self-esteem. They also tend to ruminate and over-analyze what other people say, perceiving insults and jabs when none was intended.
PERFECTIONISM
Depressed people tend to be extreme perfectionists.

Score for depressed people: 79
Score for non-depressed people: 40
Perfectionism and contentment rarely go hand in hand. Depressed people take perfectionism to an extreme, setting unreasonably high standards for themselves. When they inevitably fail to live up to them, they become even more upset and depressed, creating an ugly, vicious cycle. They also tend to dwell on disappointments and failures, seeing any goal or challenge they take on as an all-or-nothing endeavor: "I need to do this well, I need to succeed, or I will never be happy." Essentially, doing their best simply isn't enough.
FEAR OF BEING JUDGED
Depressed people live in fear of other people's judgment.

Score for depressed people: 86
Score for non-depressed people: 47
People who are depressed place a great deal of weight on other people's opinion, and worry excessively about what friends, colleagues and loved ones think of them. Any mistake or failure is evaluated in the context of, "What will other people think?" It's this fear of being judged by others that keeps depressed people in a negative thinking pattern, and discourages some from seeking help even though they really need it.
"The world looks very different through the eyes of someone who is depressed," explains Dr. Jerabek, president of PsychTests, the parent company of Queendom. "People seem crueler, goals seem impossible, and obstacles are perceived as permanent roadblocks. This perception is what leads some people who are depressed to suicide: The distorted view that no one cares about them, and that they are helpless to change their circumstances. Fortunately, this is why therapy can be quite effective against depression, especially the types that focus on changing unhealthy thought patterns, like Cognitive Behavioral Therapy. They root out the negative thoughts that have become ingrained, and replace them with more positive, healthier thoughts."
"We encourage anyone who is dealing with depression, or other mental health issues, to seek professional help. You go to the dentist when you have cavity, a doctor when you have a broken bone, and a mechanic when there's a problem with your car. Do yourself the courtesy of getting help with mental health issues. Psychological health is true wealth."
Are you dealing with depression or other mental health issues? Take this free screening:
http://www.queendom.com/tests/access_page/index.htm?idRegTest=3896
Therapists who wish to try our variety of mental health screenings can request a free demo from ARCH Profile's extensive battery: http://hrtests.archprofile.com/testdrive_gen_1
To learn more about psychological testing, download this free eBook: http://hrtests.archprofile.com/personality-tests-in-hr
About Queendom.com
Queendom.com is a subsidiary of PsychTests AIM Inc. Queendom.com is a site that creates an interactive venue for self-exploration with a healthy dose of fun. The site offers a full range of professional-quality, scientifically validated psychological assessments that empower people to grow and reach their real potential through insightful feedback and detailed, custom-tailored analysis.
About PsychTests.com
PsychTests AIM Inc. originally appeared on the internet scene in 1996. Since its inception, it has become a pre-eminent provider of psychological assessment products and services to human resource personnel, therapists, academics, researchers and a host of other professionals around the world. PsychTests AIM Inc. staff is comprised of a dedicated team of psychologists, test developers, researchers, statisticians, writers, and artificial intelligence experts (see ARCHProfile.com). The company's research division, Plumeus Inc., is supported in part by Research and Development Tax Credit awarded by Industry Canada.