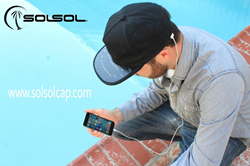 "SOLSOL™ is not just a brand name, but a statement for everyone who believes in clean energy." explains co-creator, Edward Kim.
(PRWEB) February 01, 2016
SOLSOL™ Solar Powered Hats is a new line of fashionable hats with built-in, high efficiency solar panels and a voltage regulator that charges or maintains the charge of personal electronic devices. Since solar power produces clean renewable energy, SOLSOL™ makes it possible to reduce your carbon footprint while charging a phone, just by relaxing in the sun.
The initial designs include seven different color combinations of baseball caps and another four designs of a bucket hat. The charger works without a battery, using only monocrystalline solar cells and a proprietary electronic power regulator. All that is needed is the appropriate USB charging cord and sunshine. It starts charging as soon as it is exposed to the sun and can charge a smartphone completely in about four hours of direct sunlight.
Edward Kim and Paul Cleveland, co-creators of SOLSOL™, have decades of experience in software, technology, and solution products for companies ranging from top Fortune 500 companies to entrepreneurial start-ups. They have successfully launched numerous products. Some brands they have worked on include Hot Wheels™, He-Man™ & The Masters of the Universe™ and The Original Grip Ball™.
UCI is a clean technology think-tank focused on bringing clean energy to the masses. UCI / SOLSOL™ is open to OEM, Licensing and Distribution agreements.
The creators of SOLSOL™ have launched an Indiegogo campaign. SOLSOL™ hats can be pre-ordered until February 21, 2016 for delivery in April, 2016, guaranteed.
Indiegogo Link: http://igg.me/at/solsol
For additional information about SOLSOL™ please visit our website http://www.solsol.solar, follow us on Facebook https://www.facebook.com/solsolhat/ and Twitter https://twitter.com/solsolcap. info(at)uniquecreativeideas(dot)com
###