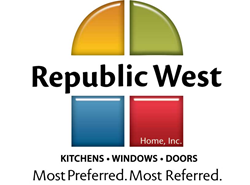 Phoenix, AZ (PRWEB) January 29, 2016
Republic West Home is giving homeowners the chance to customize their home with brand new shutters and blinds.
These custom-made additions come in a variety of styles, material and colors. Republic West Home's improvement experts will guide homeowners in the right direction when it comes to the best way to style their homes with these window treatments. Homeowners can choose from custom-made shutters, which come in a variety of styles and color. If homeowners are looking to achieve a different look, wooden blinds and shades are also available. Homeowners can have our team of knowledgeable improvement experts not only provide options when it comes to style, but they can measure and help homeowners achieve the look they desire within their budget.
With warmer temperatures lurking around the corner, blinds and shutters can not only provide protection from unwanted sunlight but they can also help keep homes cool during summer months. These window coverings can provide an extra layer of privacy and security along with an extra layer of insulation. All of these things have the potential of saving homeowners when it comes to their energy bills.
Republic West Home is excited to offer these options along with their other offers to homeowners looking to give their home a bit of a lift. Customers interested in learning more about the process can visit Republic West Home's state-of-the-art showroom and design center from 9 am to 5 pm weekdays.
Republic West Home is a licensed, bonded and insured contractor servicing Scottsdale and Phoenix, Arizona as well as Las Vegas and all surrounding cities. Free estimates can be obtained seven days a week by calling (480) 423-9300.
About Republic West Home:
Republic West Home is a company that stands for quality, honesty and the best value. Our vision, in an industry often lacking ethics and reliability, is to deliver the best home improvement experience possible.
To deliver the best possible experience before, during and after the completion of your project, an extensive team of professionals was put in place: employees driven to make the home improvement experience a great one for you, our customers. The formula works and the pleasant experiences we create for our customers have paid off. In an industry where repeat business averages less than 5%, Republic West Home and our 15,000+ clients generate an amazing 50% of our business from previous customers and referrals.
For additional information, please call 480-423-9300 or visit http://www.republicwesthome.com
Media contact:
Jason W. Jantzen
Phoenix Marketing Associates
http://www.PhoenixMarketingAssociates.com
602-282-0202
XXX