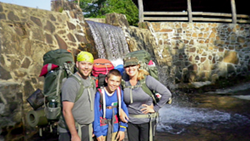 Asheville, NC (PRWEB) January 29, 2016
Trails Carolina, a wilderness therapy program for teens ages 10-17, believes great mentors can empower individuals to improve their lives, inspire hope in those who are struggling, and help people pass on wisdom to those who need it. In honor of National Mentoring Month, Trails Carolina offers parents insight into how to become better mentors.
At Trails Carolina, parent involvement is taken seriously into account. As a parent, being a positive mentor for your teen can help build and reinforce a bond between you and your child. Trails offers the following advice to ensure a positive mentorship experience:
-Get the timing right: Some parents see a problem and want to help teens fix it right away. However, by attempting to mentor teens in the heat of the moment, the lesson can be lost because they are clouded by emotion. Instead, name the problem area and come back later to talk about it. Set aside a time in everyone's busy schedule to speak about this issue. A positive mentoring experience occurs when there are no time constraints and everyone's emotions are in check.
-Allow child to mentor their parents from time to time: Teens have so many things they can teach parents. Everything from technology to the latest fashion and music can help parents understand more about today's world. Creating these opportunities allows for the doors of communication to swing both ways. It helps create a connection that allows a child to be much more apt to be mentored by that parent in the future.
-Phrase mentoring differently for teens. Often, teens will push back when adults try to offer guidance. Instead of saying, "you're doing this right and I can show you how to…", say something like, "I think you're doing a really good job in this particular area of your life. I think I can share some things that have helped me in the past that could help you become even greater than you are. I'd like to set up a time, maybe this weekend and I can show you. Both of us can see what would be most helpful for you".
-Don't just mentor teens where parents see there's a need, also mentor wherever parents can. Parents tend to focus their mentoring on areas that really bother them, such as school work and technology use. Parents can mentor teens in areas they are knowledgeable in that are not areas of contention, like driving or cooking. This kind of mentoring can be non-threatening and offers a great opportunity for bonding.
-Parents should have their own mentor. Speak about experiences with mentors often with teens. Whether it's someone in the professional world or through the community, helping teens see how a personal mentor allows a parent to become the person he or she wants to be can be really helpful for teens.
As a therapeutic program that fosters growth in young people, former students come back to Trails to act as mentors for current students.
"Former students come back for days, weeks, or even months to share their experiences before, during, and after their treatment. They discuss what brought them to this experience, what their experience at Trails was like and what wilderness treatment taught them," says Jason McKeown LMFT, CPE-I, Director of Family Services at Trails Carolina.
In addition to mentoring current students, former students and parents can also mentor parents. These former students and parent mentors are usually willing to help in any way they can, speaking at parent workshops and on parent support calls.
Trails has also incorporated a mentoring component within the programming internally. More senior, advanced level students who have gone through the program usually mentor newer students in the program.
"One of the best ways to learn something is to teach it. When one of our more senior students is able to teach or mentor other students in the group, it helps inspire and create hope in the new students," comments McKeown. "It also reinforces for the advanced student how far they've come along in their program. Being able to be a living, breathing example of how someone has conquered a challenge or navigated an issue in their life can be extremely empowering to both students."
__________________________________________________________
Trails Carolina is a wilderness therapy program based just outside of Asheville, North Carolina that offers a multi-dimensional wilderness therapy model to troubled adolescents, ages 10-17. Trails capitalizes upon the profound effects of a student's wilderness experience, and then combines that experience with strong clinical assessments and therapy. For additional information about Trails Carolina, please call 800-975-7303.