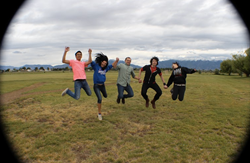 Salt Lake City, UT (PRWEB) January 29, 2016
Elevations RTC, a leading residential treatment center for teens ages 13-18, observes National Mentoring Month by discussing the active role students and staff play in mentoring students on campus.
The entire experience of Elevations RTC is based, in many ways, around mentoring others. From the executive director all the way down to direct line staff, everyone is involved in fostering positive change and growth within the student body.
As a community-based residential program, Elevations RTC offers an opportunity for more advanced students in the program to mentor new students on campus through peer-to-peer mentoring.
At Elevations, more experienced students help new students transition into campus and learn both structure and expectations of the program. As students progress through Elevations, they are given more and more mentoring responsibilities. This allows them to develop a better understanding of how their behavior affects others, a skill which they can use as they transition out of the program.
"I think the biggest, most important aspect of mentoring at Elevations is the peer to peer interactions that take place," says Eric Flores, Program Director of Elevations RTC. "We encourage and nurture strong peer relationships. From these interactions, students understand what it feels like to have a healthy relationship versus an unhealthy relationship."
Elevations RTC believes parents can also make engaging mentors. According to Elevations, becoming a better mentor starts with being involved and active in the lives of teens. Actively listening to teens can help build positive relationships with their parents.
"At Elevations, we find that many teens have difficulty problem solving. Their first reaction or their first instinct is to be aggressive, disrespectful or defiant," comments Flores. "Being a mentor for your struggling teen begins when you teach your teen how to normalize their behavior. They need to know that it's okay to be upset, but expressing such intense emotion doesn't work in certain situations. Offering teens different approaches and ideas can help them better understand how to modify and change their negative behaviors."
Students who have graduated from Elevations have returned to speak at assemblies and other community gatherings to help empower other students by offering their experiences and accomplishments during and after their time at Elevations.
"Mentorship at Elevations RTC starts the moment students walk through the doors, but doesn't have to end the moment they leave. Our students go off to inspire people in their own lives and help out in their communities," says Flores.
____________________________________________________________
Elevations RTC is a residential treatment center that offers guidance, support and relief to young men and women struggling with issues like trauma, depression, mood disorders, behavioral problems, and substance abuse. Elevations RTC is located in Utah and provides specialized, clinically intensive programs to struggling teens. For more information, please call 1-855-290-9681.