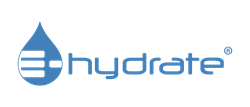 Finally, natural tastes great
(PRWEB) January 29, 2016
E-hydrate will be prominently featured as an associate at the biggest race of the year, Daytona on February 20th in the NASCAR Xfinity Series Powershares QQQ 300 Race on #70 Camaro. They will follow Daytona with sponsorship of NASCAR's West Coast Swing as co-primary at Las Vegas and Phoenix and full primary at Auto Club Speedway in Fontana, California.
E-hydrate is the world's first line of premium natural nutritional products that offer essential electrolytes, hydration and Protein On-the-Go for optimum physical performance. Veteran NASCAR driver and team owner Derrike Cope relies on E-hydrate for race day. "Being a professional race car driver, we see temperatures inside the car of over 130 degrees and hydration is a key element in being able to perform at a high level for an extended period of time. E-hydrate has a unique and great tasting way to deliver healthy hydration. We are extremely pleased to have them on board."
E-hydrate offers a complete range of natural products for athletes and the entire health-conscious family, which are available at Target and target.com. "It's common for drivers to be treated for dehydration right off the track" says Peter Evans, Chief Marketing Officer for E-hydrate, "bringing E-hydrate to the demanding world of high-performance auto racing makes so much sense. We're excited to once again support the Derrike Cope team."
###
About E-hydrate:
E-hydrate's great-tasting, natural protein, hydration and endurance products target health and fitness-conscious, on-the-go consumers. E-hydrate's natural products are ready all the time and are available in convenient single-serve packaging, including the Protein On-the-Go patent-pending pouch, which becomes its own bottle when water is added. All of E-hydrate's products are natural with great tasting real flavors born in the kitchen, not a laboratory. Finally, natural tastes great.
About Derrike Cope Racing:
Derrike Cope has competed in all four major series of NASCAR for 35 years. He is the owner of DCR and driver of the number 70 Chevrolet Camaro in the NASCAR Xfinity series. Cope has had two NASCAR Cup Series victories, including the Daytona 500, numerous top fives and tens, pole positions and a Busch Series win, now Xfinity series. Hailing from Spanaway Washington, Cope competed very successfully early in his career winning numerous NASCAR Winston West Races as well as Rookie of the Year award. He was inducted into the NASCAR West Coast Hall of Fame in 2013. He resides in Mooresville North Carolina with his wife Elyshia and has three step daughters.