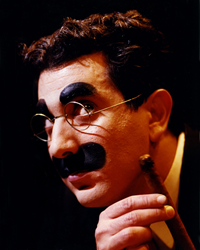 "Ferrante does for Groucho...what Hal Holbrook does with his Mark Twain tribute: Channel a great American humorist." ~The Seattle Times
San Rafael (PRWEB) January 30, 2016
The Kanbar Center at the Osher Marin JCC offers a celebration of comedy, dance, and song on April 2, 2016 as Frank Ferrante returns to the Hoytt Theater with his critically acclaimed one-man show "An Evening with Groucho". Fasten your seat belts for a fast-paced, roller coaster ride of classic jokes, wit, songs, stories, dances and hilarious improvised audience interaction in the tradition of Groucho Marx.
Award-winning actor and director Frank Ferrante recreates his PBS, New York and London acclaimed portrayal of legendary comedian Groucho Marx. This two-act comedy, a fast paced 90 minutes of hilarity, features the best Groucho one-liners, anecdotes and songs including "Hooray for Captain Spalding" and "Lydia, The Tattooed Lady".
The audience literally becomes part of the show as Ferrante ad-libs his way throughout the performance in grand Groucho style. Accompanied by an onstage pianist, Ferrante portrays the young Groucho of stage and film and reacquaints us with the likes of brothers Harpo, Chico, Zeppo and Gummo, Charlie Chaplin, W.C. Fields, Groucho's foil Margaret Dumont and MGM's Louis B. Mayer.
This show will thrill Groucho enthusiasts, create new ones, and offer insight to what was the beginning of modern humor as we know it. A show perfect for all ages. Children welcome.
Frank directed, produced and starred in the national PBS television program "Groucho: A Life in Revue" and has played over 1200 performances as the comic Latin lover 'Caesar' in the cirque show Teatro ZinZanni in Seattle and San Francisco and in Palazzo in Amsterdam.
Frank is accompanied by Music Director/Pianist Eric Ebbenga.
"An affectionate, funny and unsentimental portrait...a truly delightful show" ~Hollywood Reporter
"Artful...Mr. Ferrante's timing is digital sharp."~The New York Times
Video
What: An Evening with Groucho starring Frank Ferrante
Who: All are invited, no membership or affiliation necessary.
Seating: Reserved VIP Cabaret Table seating, Reserved seating, & General Admission choices
Tickets: $22 – $40 / Student discount for ages 17 & under
When: Sat. April. 2 @ 8:00pm | 7:30pm: Doors | 7:00pm: Wine/Beer, Concessions
Where: The Osher Marin JCC, 200 North San Pedro Road, San Rafael
Parking: Ample free parking. Accessing the Osher Marin JCC from Highway 101 is effortless, 1/2 mile E off 101
Tickets: Available at marinjcc.org/arts