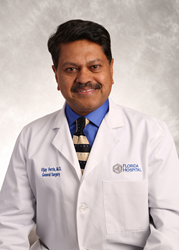 Dr. Ferris is an established leader in the field of general surgery in the Tampa Bay area
Zephyrhills, FL (PRWEB) January 29, 2016
Florida Hospital Physician Group (FHPG) is pleased to announce the addition of Vijay Ferris, MD to Florida Hospital Physician Group. Dr. Ferris is a highly experienced, board-certified general surgeon who is combining practices with fellow general surgeon Dr. Hugar McNamee under the name Surgical Associates of Pasco.
Dr. Ferris has over 25 years of experience practicing surgery and specializes in general, laparoscopic and robotic surgery. He earned his medical degree from the Osmania Medical College at Osmania University before completing his internship in Internal Medicine and Cardiology from Osmania General Hospital in Hyderabad, India. He then moved to the United States to complete his residency in General Surgery at Nassau County Medical Center in East Meadow, New York. Dr. Ferris specializes in General Surgery, Surgical Management of Cancer Patients, Surgical Care of Digestive Tract Disease, Advanced Laparoscopic & Robotic Surgery, Gallbladder Surgery, Pancreatic Surgery, Abdominal Hernia Repair and Breast Surgery for Malignant and Benign Breast Disease. Dr. Ferris is proud to have served the communities of Zephyrhills, Dade City and New Tampa for over two decades. He currently serves as Chief of Surgery at Florida Hospital Wesley Chapel and Chair of the Credentialing Committee at Florida Hospital Zephyrhills.
Florida Hospital Physician Group physicians and staff focus on compassionate, whole-person care with extensive knowledge and expertise to diagnose and treat medical conditions with a patient-focused approach. "We are very excited to have Dr. Ferris join FHPG. As we continue to grow as a group, we are establishing a reputation for recruiting the highest quality physicians who are as compassionate and caring as they are skilled and experienced, and Dr. Ferris is a shining example of that philosophy," shared Chris Jenkins, President of Florida Hospital Physician Group. "He is an established leader in the field of general surgery in the Tampa Bay area and we are delighted to welcome him to FHPG."
Dr. Ferris has two locations – in Zephyrhills at 38056 Daughtery Road, Zephyrhills, FL 33540 and in Wesley Chapel at 27415 Cashford Circle, Suite 102, Wesley Chapel, FL 33544 – and he is currently accepting new patients. For more information, or to schedule an appointment, please call (813) 782-5801 or visit http://www.FHPhysicianGroup.com.
About Florida Hospital Physician Group
Florida Hospital Physician Group (FHPG) is a multi-specialty physician group, dedicated to improving the health and wellness of communities throughout the greater Tampa Bay region with more than 120 providers operating in over 40 locations representing over 25 medical specialties. FHPG offers patients the highest level of compassionate and multidisciplinary care through a broad range of medical and surgical services, as well as direct access to five local Florida Hospitals, a Long Term Acute Care facility, imaging centers, specialty and urgent care centers, rehabilitation facilities and home care agencies located throughout Hillsborough, Pasco and Pinellas counties. Part of the Adventist Health System, Florida Hospital is a leading health network comprised of 22 hospitals throughout the state. For more information, visit http://www.FHPhysicianGroup.com.