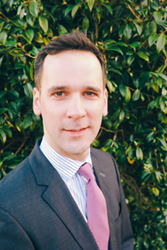 "There is a strong synergy between Ryan's experience and our market development which bodes well for our future plans."
Belfast, UK (PRWEB UK) 2 February 2016
JAR Technologies, the UK-based European market leader in both network emulation hardware-led solutions and SaaS (Software as a Service) solutions to deliver website load and performance testing, is delighted to announce the appointment of its first worldwide Head of Sales and Marketing, Ryan McAnlis. Ryan brings both extensive personal experience and significant domain expertise in building complex businesses.
JAR Technologies has just completed another successful year with multiple new customers and partners for its revolutionary JAR:Load offering, combined with an acceleration in revenues from JAR:Emulate. All told, 2015 revenues have grown in excess of 100%
James Hunter, CEO and Founder of JAR Technologies said "2015 was another highly successful year. Particularly pleasing was the fact that the business growth has been worldwide and so represents a strong export performance for us. We felt that now was the right time to increase our growth and market penetration rates, so we embarked on a highly focused search for the right person to help us deliver our targets for 2016 and beyond. I am very happy that we found Ryan McAnlis and that he chose to accept the role with JAR Technologies. There is a strong synergy between Ryan's experience and our market development which bodes well for our future plans."
Ryan McAnlis comes to JAR Technologies from Cisco where he was the Regional Manager for Northern Ireland. Prior to his lengthy and highly successful career in Cisco, Ryan was the Corporate Sales and Channel Manager for MessageLabs – an early market leader in providing cloud based software as a service (SaaS) integrating messaging and web security services. Prior to MessageLabs, Ryan was a Systems Audit and Development Specialist for the Ford Motor Company. He holds a BSc in Business and IT from Queens University in Belfast.
Ryan said "I am excited to be joining JAR Technologies at such a pivotal point in the development of the company. The focus that JAR Technologies has on network emulation plus website load testing and monitoring is a unique combination that serves its customers well. I want to help the company further increase its already strong revenue growth and help it to move into the rapidly developing 'Internet of Things (IoT)' space in the short term. JAR Technologies has a real capability to be a strong influence in all of these sectors."
About JAR Technologies:
Since 2009, JAR Technologies has been trusted to deliver cutting edge products and technology to our clients and resellers. Our products and services have been used throughout the world by industry leaders to guarantee the operation of their mission critical software and infrastructures.
Delivering to a world-wide audience, our technology has helped drive innovations in multiple technology sectors including financial, telecommunications, media and Internet of Things (IoT) markets.
JAR is based in Belfast, UK and manages its worldwide operations from there.