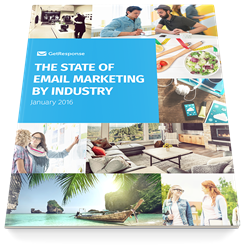 We believe that those who spend time with the report will come away with fresh insights into their approach to their industry and their business.
Wilmington, Del (PRWEB) January 30, 2016
On February 4, GetResponse, the leading email marketing provider, will release a report based on a huge marketing research project conducted in 2015. The report was written in collaboration with coauthor Kath Pay, founder and CEO of Holistic Email Marketing. It includes email marketing statistics by industry, a comparative analysis of marketing methods, and commentary on the research findings.
"We were thrilled with the enthusiastic response of those we surveyed," said GetResponse Founder and CEO Simon Grabowski. "it indicates that marketers have an appetite for in-depth research and are eager to share their experiences and opinions."
ABOUT THE RESEARCH
In July and August of 2015, GetResponse surveyed 1,831 Smart Insights members and GetResponse customers worldwide. The survey included online businesses, retailers, financial services, B2B companies, agencies, and marketing service providers. Because of the focus on management, 67.8% of the respondents were senior managers, and 36.6% were small business owners.
OVERALL FINDINGS

Marketers overwhelmingly believe in email, with 57% planning to increase their email marketing budget and 28% planning to keep it at current levels.
Of marketers surveyed, 75% are using some form of email marketing automation, suggesting that there is a strong demand for innovative ways to streamline and optimize marketing operations.
While 58% of marketers use list segmentation to cater to targeted subgroups in their marketing list, an astonishing 42% send the same message to all subscribers, indicating an untapped opportunity.
When asked which channel delivers an excellent return on investment, email marketing was the winner at 21%, with social media coming in at 15%.
MARKETING METHODS

The survey reveals that 53% of marketers work on increasing their email marketing list, while only 17% have a well-defined profile and a person responsible for list quality.
Only 18% of marketers use automated event-triggered emails across the full customer lifecycle, and only 10% use reactivation win-back emails, pointing to great opportunities in retention programs.
Optimization is an area where companies seem to be behind the curve with adoption rates for most methods in the 5-33% ranges (except subject-line testing at 47%).
Email frequency averages 5 emails per month across all industries, with one notable exception — finance, banking, and insurance at 12.2 emails per month, proving the continuing popularity of content about money and personal finance.
EMAIL TECHNIQUES

While email is traditionally a tool for sales, conversions, and retention, many industries use it for lead generation: affiliate network marketers and health & wellness practitioners at 29%, with most other categories in the 20-24% range.
Personalization has grown in popularity, with 64% using it, and almost all industries in the 50-63% range for the adoption of personalization techniques.
Predictably, online advertising network, a purely online category, leads in several areas: segmentation at 39%, broadcast timing 39%, profile-based targeting 44%, lead scoring 17%, social media integration 50%.
The travel and transportation category has the lead in adoption of responsive design at 44%, indicating they are among the first to see the value of sending emails that are easy to read on any device — desktop, laptop, tablet, or smartphone.
"As a company, we certainly learned a lot about the state of email marketing," said Simon Grabowski. "We believe that those who spend time with the report will come away with fresh insights into their approach to their industry and their business."
Stay tuned for the release of the full report on February 4, 2016. If you have questions or need early access to the report, please contact GetResponse.
ABOUT THE REPORT AUTHORS
Kath Pay, founder and CEO of Holistic Email Marketing, was named one of the world's top email marketing influencers by Vocus in 2014. A popular conference speaker, Kath is one of the UK's leading email marketers. Magda Ciszewska, Marketing Manager for GetResponse, is a driving force behind marketing programs for GetResponse Enterprise, GetResponse Automation, and others.