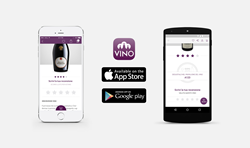 We are sure it is going to be a useful information resource and a comfortable tool for all people looking for the right wine
Verona, Italy (PRWEB) January 29, 2016
The official name is Vino Vinitaly Wine Club (https://itunes.apple.com/it/app/vino-vinitaly-wine-club/id986683781?mt=8) but is know by everyone as VINO: dedicated to the world of Italian wine and promoted by Vinitaly and Veronafiere, this revolutionary App was created to discover and purchase the finest Italian quality wines.
Since debuting at Expo Milano 2015, VINO - Vinitaly Wine Club App has been awarded the Mediastars 1st prize for the best App. The award will be presented in June.
Mediastars is an independent award, now in its twentieth edition, created by some of the most important advertising agencies and production and post-production audio-visual and web factoring companies, which aims to highlight the professionalism of those who technically contribute to the success of an advertising campaign.
The prize includes four areas and VINO - Vinitaly Wine Club has been awarded first place in the one dedicated to Multimedia Communication, Internet and Online Advertising.
Developed by DesignWine and Graffiti, VINO – Vinitaly Wine Club was launched as a "pocket" guide for the more than 1.5 million visitors who visited the "VINO A Taste of Italy" Pavilion during Expo, where they had the opportunity to taste more than 1,000 Italian wines in the "Biblioteca del Vino".
Since then, thousands of active users have been making use of the app every day. Today VINO is recognized as the leading e-commerce App for buying Italian wine. Moreover, it is the most representative and prestigious showcase for Italian quality wineries that have the possibility to make their brand and the excellence of their production known to a large community of Italian wine lovers around the world.
The VINO App is a mobile extension of Vinitaly Wine Club (http://www.vinitalyclub.com) and offers a unique wine experience that not only allows users to buy wine quickly and easily, but also increases and spreads a greater knowledge of Italian wine, which is recognized worldwide as enological heritage. Browsing is simple and based on three key points that characterize an authentic wine tasting:
SHOP: the e-commerce core section entirely dedicated to the sale of wines and guided selections, shipping not only in Italy, but also all over the world. Weekly special offers and a very wide collection of over 600 labels from the 20 regions of Italy.
TASTE: the area dedicated to wine tastings, where the user can give rates and opinions about the tasted wines and share reviews with Vinitaly Wine Club's community.
EXPLORE: the educational and informative area of the App, which supports the user in choosing the favourite wine, proposing thematic analysis, such as stories of vines and territories, interviews with producers, detailed descriptions of wineries, as well as recipes, tasting articles and curiosities about the world of wine.
"We are very proud of this project and the success achieved with the launch of our VINO App. We are sure it is going to be a useful information resource and a comfortable tool for all people looking for the right wine". Alessandro and Timothy, co-founders of Vinitaly Wine Club.
Download for free our Vino App: an exclusive wine shop in your pocket
About:
Veronafiere is the leading organizer of trade shows in Italy including Vinitaly (http://www.vinitaly.com), the largest wine and spirits fair in the world. During its 49th edition Vinitaly counted some 4,000 exhibitors on a 100,000 square meter area and 150,000 visitors including 2,600 journalists from 46 different countries. The next edition of the fair will take place on 10 - 13 April 2016. The premier event to Vinitaly, OperaWine (http://www.vinitalyinternational.com) "Finest Italian Wines: 100 Great Producers," will unite international wine professionals on April 9th in the heart of Verona, offering them the unique opportunity to discover and taste the wines of the 100 Best Italian Producers, as selected by Wine Spectator. Since 1998 Vinitaly International travels to several countries such as Russia, China, USA and Hong Kong thanks to its strategic arm abroad, Vinitaly International. In February 2014 Vinitaly International launched an educational project, the Vinitaly International Academy (VIA) with the aim of divulging and broadcasting the excellence and diversity of Italian wine around the globe. VIA has now also organized its very first Certification Course with the aim of creating new Ambassadors of Italian Wine in the World.
###