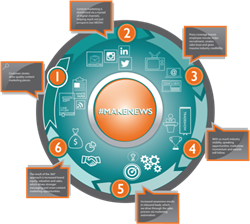 By adding lead generation and marketing automation to our capabilities, we can truly meet clients' needs - all the way from brand awareness to qualified sales opportunities.
ATLANTA (PRWEB) February 02, 2016
Public relations and integrated communications agency, AR|PR, today announced the launch of its lead generation and marketing automation service. Now, AR|PR's technology clients can more accurately quantify the results of their content marketing, media relations and social media results, transforming brand awareness and increased visibility into qualified leads that drive sales. Past president of the Atlanta Chapter of the American Marketing Association (AMA), Renee Spurlin, will lead the service in the newly created role of vice president of analytics and digital marketing.
For over three years, AR|PR has helped its clients generate sales leads by creating compelling content, earning media coverage and engaging on social media channels. With its new lead generation and marketing automation service, AR|PR can now help its clients understand who is visiting their websites, qualify those visitors and convert them into leads, as well as nurture prospects throughout the entire buyers' journey. Capabilities of AR|PR's new demand gen and marketing automation service include:

Persona Identification: AR|PR helps clients define their target audiences and understand how they make decisions, and then develops all marketing and communications efforts to speak directly to these personas.
Inbound Marketing: By driving website traffic and compelling visitors to action, AR|PR converts website traffic into trackable leads.
Lead Scoring: Based on both demographics and actions, AR|PR helps marketing and sales teams identify their hottest prospects.
Lead Nurturing and Marketing Automation: Through SaaS marketing solutions like HubSpot, Marketo, ClickDimensions, Pardot and more, AR|PR creates compelling, event-triggered communications to move prospects through clients' sales funnels.
"Since the communications landscape began to evolve for the digital age, PR and marketing communications pros have been debating to how best quantify results," said Spurlin. "No longer are impressions, ad equivalency or basic percentage increase measurements in web and social traffic accurate or acceptable. By adding lead generation and marketing automation to our capabilities, we can truly meet clients' needs - all the way from brand awareness to qualified sales opportunities."
The lead generation and marketing automation service rounds out AR|PR's 360-degree approach, which was built on a calculated combination of strategies and tactics across several disciplines including media relations, influencer marketing, social advertising, content marketing and now, inbound marketing and demand generation. A core team of lead gen specialists who hold inbound marketing and Google Adwords certifications will support Spurlin. They include, vice president Blair Broussard, senior account manager Jennifer Blackburn and account coordinator Madeline Elliot.
The agency has already piloted its offering with multiple clients in industries such as healthIT, cybersecurity, SaaS and energy. For example, electronic signature client AssureSign tasked AR|PR to conduct an audit and provide recommendations for optimizing its ClickDimensions' usage. Likewise, cybersecurity client NexDefense and critical power analytics and facility management services client, Canara, have partnered with AR|PR for tasks such as content development, lead nurturing and persona identification.
"From our very first day in business, AR|PR has always been a forward-leaning agency, driven by change. At a time when digital platforms, newsrooms, and buyers are rapidly evolving in preference and sophistication, we believe the PR industry must progress in tandem in order to provide clients with the best results," said Anna Ruth Williams, founder and CEO of AR|PR. "We're now one of the first PR agencies to incorporate lead gen and marketing automation into our core methodology – it's an extra layer of value that's already accelerating our clients' businesses."
Launched in 2012, AR|PR is now one of the fastest growing technology PR agencies in the country. Bulldog Reporter named the agency National Small Agency of the Year in 2014, and the Metro Atlanta Chamber of Commerce named Anna Ruth Williams Entrepreneur of the Year in 2015. To learn more about AR|PR's current client roster, awards and results, visit http://www.arpr.co.
###
About AR|PR
As the nation's fastest growing technology PR firm and the 2014 National Small Agency of the Year, AR|PR is a results-driven public relations and integrated communications agency for technology leaders and innovative startups. With a passion for telling technology and entrepreneurial stories, AR|PR cultivates strategic partnerships with its high-growth tech clients. From early-stage startups to mid-sized enterprises, AR|PR helps companies within the cybersecurity, energy, health IT, mobility and Software-as-a-Service (SaaS) industries cut through the noise and clutter to #makenews. For more information on the award-winning agency, visit their offices in Atlanta and New Orleans, and online at arpr.co and @AR__PR.