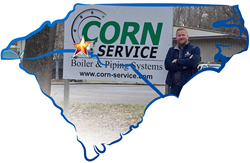 Powerhouse rental boilers are in high demand in the South - the timing for this expansion is perfect
Gastonia, NC (PRWEB) February 02, 2016
Powerhouse Equipment and Engineering Co., Inc. (Powerhouse) announced today it has acquired the North Carolina boiler service company, Corn Service Inc. (CSI). CSI is located in Gastonia, NC, just 20 minutes from Charlotte, NC - an important hub for energy companies, and is called "Charlotte USA - The New Energy Capital". This strategic location will allow Powerhouse to better service its rental boiler customers in the Mid-South, SouthEastern and Gulf Coast Regions of the United States.
CSI had been owned and operated by Forward Ventures Inc., which ran the company successfully for 7 years after acquiring the business from its original owners in 2009. Powerhouse has a long history with CSI, mostly through a common partner, Energy Equipment Co. (EEC), which uses the Gastonia, NC facility for storing and reconditioning its large fleet of packaged boilers. Powerhouse is happy to continue this productive relationship with EEC, which will give Powerhouse customers even more purchase options.
"The opportunity to acquire a company in the boiler business is rare, but to acquire a company with 40+ years of boiler service, a great reputation and family values is just about impossible." says Powerhouse CEO and President, Matt Stohner, "Powerhouse targeted this area of the country for growth and we can now offer high-quality equipment at more competitive prices."
Scott Garriel, most recently COO of Powerhouse, will run this expansion for Powerhouse and has relocated to Charlotte.
Powerhouse will continue the many long-term relationships CSI has established with regional customers, including VA hospitals, manufacturers, power producers, schools, universities and many more. In addition, Powerhouse will use the Gastonia, NC facility to build, store and service its growing rental boiler fleet.
About Corn Service
Founded in 1971 by Joe Corn, Corn Service has provided the Mid-South and SouthEast regions with high quality boiler service and boiler equipment. Corn has trained and maintained exceptional boiler talent including experienced service technicians, boilermakers, code welders and pipe fitters.
Read more at http://www.cornservice.com
About Powerhouse
Powerhouse is a single-family-run, privately-held organization headquartered in Delanco, NJ. Powerhouse started in 1982 in Camden, NJ specializing in boiler repairs and parts sales. Today it maintains the newest and largest rental boiler fleet in North America. Its customers are primarily industrial facilities and large commercial institutions. Powerhouse maintains a workforce of over 60 dedicated employees. Powerhouse's state-of-the-art facilities allows for the building, maintaining and testing its high quality equipment. Powerhouse has built its reputation by providing top quality equipment, paired with exceptional service.
Read more at http://www.powerhouse.com/contact-us/locations-directions/