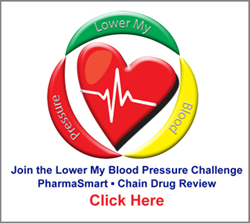 (PRWEB) February 01, 2016
PharmaSmart International Inc., a Rochester, N.Y based, "Inc. 5000" company and Chain Drug Review, the leading publication in the retail pharmacy sector, have launched a groundbreaking partnership designed to help patients lower their blood pressure at the pharmacy point of care.
Starting today and for the next year, the two companies will generate awareness across community pharmacy about hypertension and help jump-start efforts to reduce rates of uncontrolled blood pressure. In the process, they will reinforce the fact that community pharmacists can and should play a bigger role in effective patient care. PharmaSmart® boasts a clinically validated "out-of-office" blood pressure screening tool, while Chain Drug Review provides an unmatched conduit for communicating with members of the pharmacy profession.
Pharmacists can now enroll through Chain Drug Review's website (http://www.chaindrugreview.com). Look for the "Lower My Blood Pressure" hyperlink found directly on the site's home page. Pharmacists with the most success in helping patients lower their blood pressure will win prizes, including the option to contribute a cash award to their charity of choice, travel, and a Sony Play-Station and/or an Apple iPad. Other prizes, including multiple pizza parties throughout the year, will be awarded to individuals or groups. A dedicated portal that outlines rules for participation, program registration and specifics about the initiative is now live.
PharmaSmart® offers pharmacists a credible, accessible, low-cost solution for monitoring blood pressure that is supported by leading national physician groups. Because of this strong clinical positioning, pharmacists can coordinate hypertension care with local physicians, and they can confidently recommend the program to their patients.
"Uncontrolled blood pressure remains the leading cause of premature death and disability in the United States. Fifty percent of people diagnosed with high blood pressure do not have the condition under control. The only way we will make a dent in this public health crisis is to engage America's 300,000 pharmacists, who are accessible, trained and ready to help patients better manage this deadly condition," says Ashton S. Maaraba, PharmaSmart Chief Operations Officer and General Manager.
"With community pharmacy positioning itself as the 'face of neighborhood health care,' pharmacies are looking for new clinical programs that earn the trust and confidence of patients and their physicians, said Fred W. Sarkis, PharmaSmart President and CEO. "Thousands of pharmacies across the U.S. and Canada have upgraded to PharmaSmart® technology, and leverage it as a validated, integrated clinical resource to optimize patient therapy. We are proud to team up with Chain Drug Review in this patient-centered project."
"We are extremely excited to partner with PharmaSmart® on this unique collaborative effort, and in turn bring attention to the positive role community pharmacists can play in controlling patient blood pressure," says Jeff Woldt, Vice President and Editorial Director of Racher Press Inc., which publishes Chain Drug Review..
About PharmaSmart®
PharmaSmart®, headquartered in Rochester, N.Y., currently serves more than 6,500 locations, including such retail pharmacies as, Brookshire's Grocery Company (BGC), Kinney Drugs, Bartell Drugs, Sav-MorRx/Sav-On Drugs, Nash Finch, Roundy's/Mariano's, Associated Food Stores, Leader, McKesson Health Mart, Good Neighbor, Astrup Drug, Winn Dixie, Big Y Foods, Harmons Grocery, Wal-Mart Canada, Safeway Canada, Price Chopper, Loblaw's, Le Groupe Jean Coutu, Shoppers Drug Mart, Rexall/Katz Group, Sobeys/Lawtons. PharmaSmart® also serves major worksites, military bases, university schools pharmacy, hospitals and medical clinics. PharmaSmart's PS DataSmart® Health IT database currently holds more than 40 million targeted patient blood pressure readings. PharmaSmart® biometric screening technology and Health IT Systems will serve as the driver for generating and streaming patient readings to a secure, HIPPA-compliant data center. Qualified clinicians will assess confidential data throughout the one-year duration of the program.
For more information visit the company's website at http://www.PharmaSmart.com.
About Chain Drug Review
Published by Racher Press Inc., Chain Drug Review is the leading newspaper reporting on the retail pharmacy industry and the companies that interact with it, including prescription pharmaceutical makers, front-end suppliers, drug distributors and technology vendors.
For more information visit the publication's website at http://www.chaindrugreview.com.