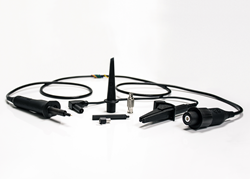 St. Augustine, FL (PRWEB) February 01, 2016
Carlisle Interconnect Technologies (CarlisleIT) has announced the launch of a lineup of innovative products designed to deliver high signal integrity in increasingly dense RF test and measurement applications. New products include the CoreGD™ and CoreHC™ RF adapters, Secure-Thread, one of the smallest threaded lock connectors available, and the Passive Probe, a 500 MHz CAT III/IV general-purpose, high voltage probing solution.
The CoreGD and CoreHC connector systems are designed to provide a cost-effective and field-replaceable interconnect solution to reduce initial and ongoing costs. The solderless CoreHC features a small 4mm footprint and is equipped to meet complex requirements, delivering 20,000 cycles and enabling the ability to selectively load the connector. CoreHC is available in multiple position offerings, including stackable side-to-side and back-to-back options in addition to board-to-board stack, vertical, edge and right angle mounts.
The robust and flexible design of the CoreGD is based on SSMP ganged 4.0mm pitch and WMP ganged 2.5mm pitch designs. GoreGD is highly customizable to provide a cost-effective, hybrid interconnect solution, and the connector is available in multiple configurations, including vertical mount, board-to-board stack, right angle mount and edge mount. Configurations are available in standard offerings of 2, 4, 6, 8, and 10 positions.
The new Secure-Thread series for the SSMP® and WMP® connector systems provides a smaller and lighter version of the SMP interconnect system. The connector features a blind-mateable push-on combined with a threaded coupling nut system, promoting a high standard for electrical performance and eliminating any mechanical movement at the interface. The frequency range for the Secure-Thread is DC to 65 GHz (SSMP) and DC to 100 GHz (WMP), and the connector meets MIL-PRF-39012 and MIL-STD-202 specifications. Secure-Thread is compatible with several of CarlisleIT's cables, including the AccuPhase®, Semi-Rigid and Semi-Flexible cables.
The Passive Probe provides an industry-leading combination of high bandwidth and high voltage in a low cost, rugged, general purpose probing solution. Available in 1X, 10X and 100X configurations, the Passive Probe provides broad application coverage and features a small UL approved body and compact head, providing the user access to small geometry circuit elements. The Passive Probe features a 500 MHz bandwidth and exceeds UL61010-31 and IEC61010-31 standards. The Probe is designed for use in applications including low power device services, manufacturing engineering, test research and development, power supplies and more.
About Carlisle Interconnect Technologies
Carlisle Interconnect Technologies is one of the world's leading designers and manufacturers of high-performance wire and cable, including optical fiber. Since 1940, we have grown our product portfolio to include specialty and filtered connectors, contacts, cable assemblies, complex harnesses, racks, trays and installation kits. In addition to our vast product breadth, we provide our customers a higher level of support by offering engineering and certification services for the commercial aerospace, military and defense electronics, industrial, test & measurement, and medical industries. For more information visit http://www.CarlisleIT.com.