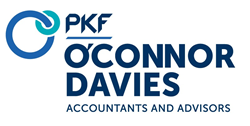 New York, NY (PRWEB) February 02, 2016
O'Connor Davies, LLP, one of the nation's fastest growing accounting and advisory firms, announced today that it has expanded its relationship with PKF International, becoming the lead North American firm in the growing global network of independent accounting and advisory firms. The move immediately provides O'Connor Davies' clients with preferred access to experts and firms in 440 cities and 150 countries around the world, while establishing the firm as the primary referral point for international businesses with needs in North America. The expanded relationship is a reflection of O'Connor Davies' strong growth and the ongoing demand for international expertise among businesses in the U.S. and abroad.
The expanded relationship with PKF prompted O'Connor Davies to align its name and strategic brand focus and elements, including logo and tagline. The firm will now be known as PKF O'Connor Davies, emphasizing its standing in the network. A newly created logo also showcases the PKF name prominently while featuring two interlocked Os to symbolize the strength of the firm and the deep connections it creates with clients and partners. The firm's new tagline, Know Greater Value™ reinforces PKF O'Connor Davies' commitment to continually creating the highest level of value possible for clients. The move comes amid a period of unprecedented growth for PKF O'Connor Davies with the firm expanding from 450 professionals to more than 600 in less than 18 months.
"Everything we do is focused on creating value for our clients and in today's global environment the ability to deliver top-notch expertise no matter where clients are in the world is integral to that process," said Managing Partner Kevin J. Keane. "Our expanded role in the PKF International network ensures our clients have seamless access to top accounting and advisory expertise around the world and helps put our firm on a level playing field with some of the largest in the industry. The partnership, our new name and our new branding are exciting steps in the evolution of this firm and demonstrate how bright the future is for PKF O'Connor Davies and our clients. I'm proud of everything we've accomplished and I'm even more excited to start this next chapter in our history."
Along with the new strategic brand elements, the firm launched a new web presence at http://www.pkfod.com. In line with the firm's commitment to value creation, the new web site features an enhanced resource section where clients, prospects and industry professionals can access an extensive library of thought leadership materials from topical articles to industry trend pieces and timely commentary on relevant industry issues. The site also features a user-friendly interface designed to enhance the experience for visitors regardless of how they use the site or what type of device they access it on.
"Since we began our relationship with O'Connor Davies it's been clear that we share a passion for driving value with clients and for valuing the people we work with," said John Sim, Global CEO of PKF International. "As our network evolved we sought a lead partner to anchor our presence in North America and O'Connor Davies was the natural choice. Beyond the cultural alignment, they have a strong leadership team and a deep team of experts across disciplines that is hard to match. The recent growth only underscores the strength of the firm and reinforced the decision to expand the relationship. We are excited about the value of this partnership for our clients and the network in general both today and moving forward."
About PKF O'Connor Davies, LLP
PKF O'Connor Davies, LLP is a full service Certified Public Accounting and advisory firm with a long history of serving clients both domestically and internationally. With roots tracing to 1891, ten offices in New York, New Jersey, Connecticut and Maryland, and more than 600 professionals, led by 100 partners, the Firm provides a complete range of accounting, auditing, tax and management advisory services.
PKF O'Connor Davies is ranked number 29 in Accounting Today's 2015 "Top 100 Firms" list and the Firm is also recognized as a "Leader in Audit and Accounting," a "Pacesetter in Growth" and one of the "Top Firms in the Mid-Atlantic." PKF O'Connor Davies is ranked number 29 in INSIDE Public Accounting's 2015 "Top 100 Firms" list and recognized as one of the "Top Ten Fastest-Growing Firms." In 2016, PKF O'Connor Davies was named one of Vault's Accounting 50, a ranking of the 50 best accounting employers to work for in North America, and ranked among the top 50 most prestigious accounting firms in America in a complementary Vault survey. The Firm is the 11th largest accounting firm in the New York Metropolitan area, according to Crain's New York Business. By consistently delivering proactive, thorough and efficient service, PKF O'Connor Davies has built long-lasting, valuable relationships with its clients. Partners are intimately involved in the day-to-day management of engagements, ensuring a high degree of client service and cost effectiveness. The Firm's seasoned professional staff members employ a team approach to all engagements to provide clients with the utmost quality and timely services aimed at helping them succeed. Continuity of staffing and attention to detail in all client engagements make the Firm stand out among its competitors.
PKF O'Connor Davies is the lead North American representative of the international association of PKF member firms. PKF International is a network of legally independent member firms providing accounting and business advisory services in 440 locations in 150 countries around the world. With its tradition, experience and focus on the future, PKF O'Connor Davies is ready to help clients meet today's ever-changing economic conditions and manage the growing complexities of the regulatory environment.