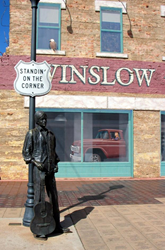 Spokane Valley, WA (PRWEB) January 31, 2016
Artist Ron Adamson is a picture of a true Montanan. With a gentle persona, a love for fishing and the outdoors Ron lives in an enviable existence along the Kootenai River in Libby, Montana. It is no wonder that his inspirational atmosphere leads him to create wonderful sculptures and carvings of Native American and Western Themed Artwork. Ron is a multi-disciplined artist carving in wood and stone, creating wildlife bronze works and is even known to pick up a paintbrush now and again.
Recently Ron's talents have been amplified by his iconic sculpture "Easy" he placed "On a Corner in Winslow Arizona". It is one of the most photographed sculptures of all time as many thousands of fans of the Rock Legend Band "Eagles" will attest. In July of 1997, Ron was commissioned to create the work of art as a tribute to the song "Take it Easy" by the Eagles. It took Ron two years to complete the work and on September 11th 1999 the life size bronze of a young man and his guitar was placed on the corner of Kinsey and Second in Winslow, Arizona.
Due to the recent passing of Eagles Founder Glenn Frey, a worthy focus has been placed on this work of art and it has been revered as a memorial to Frey with flowers and balloons being placed there in his memory. As a tribute to the fans of Frey and the Eagles, Ron has created a limited edition offering of "Easy" in an 18" Bronze Sculpture. This work as well as Ron's other artistic creations can be purchased directly from the artist from the Art Marketing web site https://www.flootie.com.
"Easy" can be seen Here
Flootie.com founder Dean Cameron has this to say about Ron: "It is our pleasure to have known Ron for several years now and we have even been his customer on several occasions. We at Flootie are thrilled to help Ron reach out to his loyal fans and share his exceptional talents through our web site".
With Adamson's creativity and his prolific creation of new and interesting works of art, It would be a safe bet to predict that we will see and hear a lot more from Artist Ron Adamson.