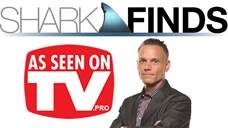 Kevin Harrington has taken over 500 products and businesses to the next level, generating more than $5 billion in sales worldwide.
St. Petersburg, FL (PRWEB) January 30, 2016
Kevin Harrington and the experts of Shark Finds are scouring the globe in search of high design and intelligent innovations. With spring and summer on the horizon, the highly successful "Inventor of the Infomercial" and the team, are on the hunt for the next, inventive home and houseware products. The popular reality star is scheduled to attend the International Home & Housewares Show, (http://www.housewares.org) March 5-8, 2016, with his eye on product design excellence to be featured as part of an AsSeenOnTV.pro DRTV campaign.
As part of the media campaign with AsSeenOnTV.pro, participant products will appear in 30 and 60 second spots set to air nationwide and feature the original Shark himself, Kevin Harrington. AsSeenOnTV.pro is comprised of an award-winning team of producers, writers, videographers, and editors as well as industry veterans dedicated to finding the latest, most innovative products and ideas, and putting them on the DRTV map.
About Kevin Harrington
Founder of As Seen on TV, and one of the original Sharks on Shark Tank, Kevin Harrington has worked with some of the world's biggest celebrities and launched some of the best-selling DRTV campaigns in history. Since producing his first 30-minute infomercial in 1984, Harrington has been involved in over 500 product launches that have resulted in over $4 billion in sales. Now, in his latest venture with AsSeenOnTV.pro, Harrington is on the hunt for the best new products and ideas, bringing them to homes everywhere through personalized DRTV campaigns featuring the Shark.
About Shark Finds
Shark Finds is an award-winning production company located in Florida. Its creative team guides the spots from script phase to screen-ready stage to final airing. The Shark Finds team has produced over $20 million worth of broadcast placements in just over two decades, with the help of their regional and national relationships.