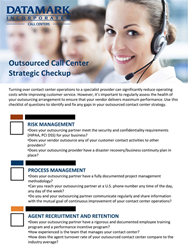 El Paso, Texas (PRWEB) January 30, 2016
Companies that outsource their call center services to third parties can review the effectiveness of their strategy and the health of their relationship with their service provider using the "Outsourced Call Center Strategic Checkup," now available from DATAMARK, Inc., a leading provider of business process solutions.
The checkup consists of a checklist of critical questions that organizations should review with their service providers and management teams to ensure the outsourcing arrangement delivers high performance along with data security, process innovation and cost control.
Topics addressed include:

Risk Management
Process Management
Agent Recruitment and Retention
Cost Control and Process Improvement
Agility and Flexibility
Technology Support
Outsourcing Relationship
The "Outsourced Call Center Strategic Checkup" is available for complimentary download at this link:
About DATAMARK
DATAMARK, Inc. is a leading business process outsourcing company specializing in high-volume digital mailroom management, document processing/document management, contact center services and process improvement consulting for Fortune 500 companies and other large enterprises.
Headquartered in El Paso, Texas, DATAMARK employs nearly 2,200 people in its U.S., Mexico and India facilities. For more information, visit http://www.datamark.net. Follow contact center industry news and trends at DATAMARK's Call Center Insights blog at http://www.datamark.net/call-centers/blog.