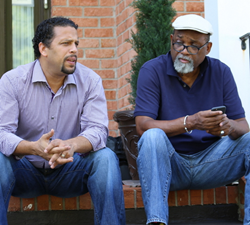 GPB is pleased to serve as the presenting station for MAYNARD as part of our Georgia Greats series highlighting extraordinary Georgians; and we will be honored to showcase Sam Pollard's work.
Atlanta, GA (PRWEB) February 01, 2016
Auburn Avenue Films and Georgia Public Broadcasting (GPB) have formed a viable partnership to complete the production of MAYNARD, the documentary film, which is being made about the life and times of former Atlanta Mayor Maynard H. Jackson. The partnership includes a distribution arrangement with GPB. Teya Ryan, CEO & president of GPB, said, "GPB is pleased to serve as the presenting station for Maynard as part of our Georgia Greats series highlighting extraordinary and influential Georgians. Additionally, Sam Pollard is a well respected filmmaker and we would be honored to showcase his work on GPB."
Auburn Avenue Films, the production company tackling the job of making this film, is also excited that GPB will be the educational partner for MAYNARD. This partnership will ensure that the history lessons of Jackson's three terms, an important part of Jackson's legacy, tie into GPB's extensive educational programming. These history lessons, about Atlanta's first African American mayor, will be provided in perpetuity for Georgia students through the GPB Education curriculum support offered to both teachers and students.
The documentary will tell the story of the man, the politician, and the game changer; and will endeavor to answer the question: "How did Maynard do it?" In addition to being referred to as "Action Jackson" from time to time, Mayor Jackson was known as an articulate, charismatic and compassionate leader who served a record three terms as Atlanta's mayor. Among his many successes, he earned his place in Atlanta history books for building the world's busiest airport and is known nationally for developing a model for affirmative action programs that was used in cities around the United States. The objective is to tell the Maynard story that details his life and to motivate other young people who choose public service, politics, and entrepreneurship that one honest and dedicated individual can make a difference.
The director of the film is Samuel D. Pollard, known as a prize-winning producer/director of documentary films, who is an Emmy Winner and an Academy Awards Nominee for his work in Eyes on the Prize, Slavery by Another Name, When the Levees Broke, Four Little Girls, and more. He leads a team of writers and producers who are just as talented that include Sheila Curran Bernard, Winsome Sinclair, Wendy Eley Jackson, and Daphne McWilliams.
MAYNARD will present an intimate view of Jackson from those who knew him best. The film will include video archival footage and photographs, and rare interviews with family and co-workers who helped sustain the Maynard movement during his administration at Atlanta City Hall and beyond. "Maynard Jackson had a voice that could melt the meanness out of the hardest heart and a gift of gab that could talk an owl out of a tree," said President Bill Clinton during his eulogy of Mayor Jackson.
Auburn Avenue Films, Inc. executive producers have many things to say about the process of completing this film; but most importantly, they want the community to know, "The making of this film is a challenge to which we are dedicated and determined to meet. My father cared about the empowerment and opportunities for all people and it has been the people from around the world who continue to make our production possible," says Maynard Jackson III, who had the idea one year ago to make this movie about the life of his father.
About GPB:
As one of the largest PBS stations in the nation, Georgia Public Broadcasting (GPB Media), has been creating content worth sharing for over 50 years. With nine television stations, 18 radio stations and a multi-faceted web presence, GPB strives to educate, entertain and enrich the lives of our viewers and listeners with programming that includes statewide radio news, current affairs, high school sports, educational resources for teachers and students and enlightening programs about our state like Georgia Outdoors and Georgia Traveler.
About Auburn Avenue Films, Inc.:
Auburn Avenue Films Inc. is an Atlanta based television and film company specializing in development, production, and post production of multi-cultural content for television, film and digital platforms. Their belief in collaborative storytelling allows them to develop high level scripted and alternative programming.