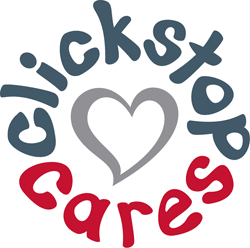 Urbana, IA (PRWEB) February 01, 2016
In just one year, Clickstop Cares has made an undeniable impression on many in the area- more than 500 people to be exact. What began in January 2015 as a dream of helping families and individuals who had fallen on hard times, has quickly turned into an organization that does just that- and more.
The first goal for Clickstop employees was collecting, sorting, and tagging donated clothing and housewares to fill the company's old office building on Bing Miller Lane in Urbana. From the first donation drive in February through the end of the year, nearly $10,000 in inventory has been stocked and ready for those visiting "the "Closet" as it's been nicknamed by employees.
Clickstop Cares Director Loraine Kelty says that while the donations are what got Cares started, the group often purchases items that are requested but not available at the Cares Closet. Monetary donations from employees and others in the community are what make these possible.
"We've purchased kid's snow boots if they are needed in a particular size; a car seat for a young family with a new baby on the way; a bed for a young man aging out of the foster system and moving out on his own; those are just a few examples. If possible, we try our best to find what they need," said Kelty.
The process to receive help is simple. Those in need can message Clickstop Cares via their https://www.facebook.com/clickstopcares/ or email. An application is required and the individual will work directly with someone from the organization to determine whether or not they qualify for assistance.
Kelty says the majority of calls for assistance come via local social service organizations and schools.
"We've been so fortunate to develop a great relationship with social service workers in the area and in our local school districts; they will contact us if they are working with someone in need, or if they know of a family who could benefit from our help."
That work with the local schools also presented a unique opportunity for Clickstop Cares to assist with helping over 150 children in the Vinton Shellsburg school district with school supplies, clothing, and shoes last fall. Additionally, the group reaches out to local coaches and teachers in the area school districts to let them know sports gear may be available at Clickstop Cares for students in need, and encourages them to donate any gently used gear so that others in the area may benefit.
So how does Clickstop Cares do it all? Kelty says it's all thanks to its volunteers- most of whom are Clickstop employees. Family members of employees also often pitch in to help when needed, whether it's wrapping Christmas gifts for the organization's "adopted" families, moving furniture to help Clickstop Cares' recipients, or organizing donations. The group also has two regular volunteers through AmeriCorps.
"The number of employees we have helping through volunteering has been absolutely astounding; we know we have good people who work at Clickstop, but launching Clickstop Cares truly could not have happened without our own people giving their time and talents," said Kelty.
Clickstop Cares operates as a 501(c)(3) non-profit organization which means donations are tax-deductible. Currently, the group is focusing on increasing their stock of sports gear (baseball pants, football cleats, etc.) for local student athletes, formal wear for prom, and professional wear such as suits, dresses, etc. for those entering the workforce.
The Clickstop Cares team is also researching grants and corporate funding options, and reaching out to other local business to help fill Clickstop Cares and provide to those in need.
If you'd like to donate items, make a personal monetary donation, or on behalf of an organization, please call 1-888-794-1413 or email Cares(at)Clickstop(dot)org for more information.
About Clickstop, Inc.
Clickstop is the parent company of a suite of online retail stores based in Urbana, Iowa. Its focus on great workplace culture has landed the company multiple work environment-focused awards including two first place achievements as the Coolest Place to Work. Clickstop web properties serve diverse markets that include the moving and cargo control industry, energy efficient insulation products, and home organizing solutions. For more information visit Clickstop.com.