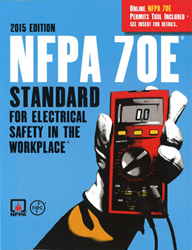 Portage, Michigan (PRWEB) February 02, 2016
NETA, the InterNational Electrical Testing Association, has named the 2015 NFPA 70E: Standard for Electrical Safety in the Workplace its February Book of the Month, offering this updated safety guide for $58.00, which is 15 percent below market rate. The 148-page soft-cover book — and many other resources of value to electrical testing and maintenance professionals — is available through the online NETA Bookstore.
Shock, electrocution, arc flash, and arc blast are responsible for hundreds of worker deaths and thousands of injuries per year in the U.S. alone. NFPA 70E: Electrical Safety in the Workplace, the standard developed for OSHA, details how to achieve compliance with OSHA 1910 Subpart S and OSHA 1926 Subpart K.
The 2015 edition has been revised to recognize new hazards and increase safety on the job. Personal Protective Equipment (PPE) protects personnel and can significantly reduce the risk of injury in an arc flash. To help engineers calculate incident energy — the first step in determining the correct type of PPE for a given task — a new Annex D in the 2015 NFPA 70E consolidates all equations, adds new tables, and offers more options to detailed calculations.
For example, a new utility table derived from the NEC helps utility and industrial plant workers calculate PPE based on voltage and fault current data. Additional examples of improved work practices that reduce risks include:

A new requirement for Fire Rated clothing for H/R Category 1 precludes the use of cotton clothing. This change reduces the risks for second-degree thermal burns.
An expanded Table in Article 130 covers added tasks such as thermographic imaging and new equipment such as arc-resistant switchgear.
Added Article 350 provides first-time requirements for the protection of electrical personnel in R&D labs.
A new exception verifies that power systems 240 V and less, fed by a single transformer less than 125 kvs, no longer require an arc-flash hazard analysis.
Expanded requirements for multi-employer relationships address potential areas of oversight and improve contractor communication about electrical hazards.
New recordkeeping requirements for training and safety program audits answer OSHA's need for records and ensure data is available when you need it.
To take advantage of this limited-time the NETA February Book of the Month offer, visit the NETA Bookstore by February 29, 2016.
ABOUT NETA
NETA is an ANSI Accredited Standards Developing Organization that creates and maintains standards for electrical maintenance and acceptance testing for electrical power equipment and systems, as well as a standard that addresses the certification of electrical testing technicians. NETA is an association of leading electrical testing companies comprised of visionaries committed to advancing the industry standards for power system installation and maintenance to ensure the highest level of reliability and safety.