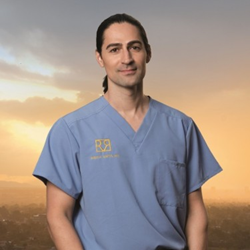 I'm constantly reminded how powerful an impact the removal of loose skin is after weight loss.
Scottsdale, Ariz (PRWEB) January 31, 2016
Scottsdale, Arizona-based plastic surgeon Dr. Remus Repta is seeing a trend: An increase in procedures associated with removing extra skin after massive weight loss.
"The number of patients opting for tummy tucks, breast lifts and breast augmentation to remove excess skin after weight loss is increasing," says Dr. Repta. "Patients are often left with excess loose skin that can be painful and inhibits a fully active lifestyle. It can also serve as a source of low self-esteem."
A report from the American Society of Plastic Surgeons clearly shows the medical trend. Nearly 45,000 procedures specifically associated with massive weight loss were performed in 2014, an increase of 7 percent from the previous year.
One of Dr. Repta's recent patients garnered worldwide notoriety. Simone Pretscherer, a 25-year-old makeup artist from New Zealand, lost 180 pounds, chronicled her extreme weight loss through her "Simone's Journey to Health" social media postings. Her weight loss left Simone with significant amounts of loose skin associated with her chest, abdomen and back that could not be tightened with diet or exercise.
Dr. Repta performed a full abdominoplasty (tummy tuck), breast lift, breast augmentation, as well as a Bra Line Back Lift, a procedure Dr. Repta published in Plastic and Reconstructive Surgery Journal in 2008.
"The Bra Line Back Lift procedure is like a face lift for the back," Repta says. "The procedure helps to tighten the upper and middle back and removes excess skin and fat from the bra area such as back rolls and bra fat."
Pretscherer's successful body makeover caught the attention of hundreds of thousands of social media followers around the world, and led to her appearing on Tyra Banks' FABLife television show and many other media appearances.
"I'm constantly reminded how powerful an impact the removal of loose skin is after weight loss," Repta says.
About Dr. Remus Repta
Dr. Remus Repta is a board-certified Plastic and Reconstructive Surgeon and the medical director of Scottsdale Surgery Center and Scottsdale Skin Institute in Scottsdale, Arizona. He is also a member of the American Society of Aesthetic Plastic Surgeons and the International Society of Plastic Surgeons. Dr. Repta's office is located at 8900 E. Raintree Dr. Suite 200, Scottsdale, Ariz. 85260. Visit http://www.scottsdaletummytuck.com or call 855 Dr. Repta (855-377-3782).