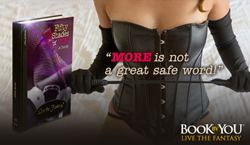 'Fifty Shades of You' a personalized parody for Valentines and 'Fifty Shades' aficionados.
(PRWEB) February 01, 2016
In "Fifty Shades of You" a personalized parody novel, the hero and heroine swap roles. The heroine stars as a billionaire business mogul with a penchant for control, and her hero is a clumsy but loveable university student just begging to be introduced to the exciting world of BDSM. Filled with steamy romantic scenes and hilarious misadventures, this parody makes the ultimate Valentine's Day gift. Become part of the intrigue—and the romance—by personalizing four characters in this titillating novel: the heroine, her female friend, the hero, and his best bud. Even include a favorite pet!
"Fifty Shades of You" joins the extensive Book By You collection of thrilling and entertaining personalized romance novels in an array of settings, sure to excite every Valentine this year!
Book By You is the world's leading provider of personalized books with books in all major genres including mystery and the classics. The entire personalized collection is available in soft and hard cover editions and also in personalized ebook format for immediate download. To make the ebooks even more exceptional, each one can include a free photo that will be displayed in the opening pages of the novel. Add a personalized dedication and the result is a remarkable and romantic ebook that can be taken anywhere and read any time.
To purchase a personalized book, readers go to the company's website at BookByYou.com and complete a character questionnaire specifying the information to be included in their story. The company offers a free demonstration area where readers can preview personalized excerpts from any of the company's library of over 60 personalized books.
BookByYou.com has received national media coverage and has been featured on ABC's The View, CNN, Fox News, The Wall Street Journal, Jimmy Kimmel Live and many additional media outlets.
"Fifty Shades of You" is a Book By You parody novel. Book By You and this parody is not associated with the serious literary work entitled Fifty Shades Of Grey, or endorsed or authorized by its author, E.L. James, or publisher, Vintage Books.
BookByYou.com is an interactive publishing company and the world's largest provider of personalized books. Media interviews, promotions and give-aways are available upon request. Please contact Michael Pocock at 1-877-898-1440 or publish(at)BookByYou(dot)com