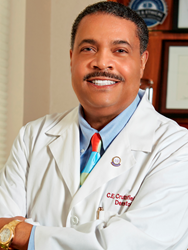 I've been using a similar technique for over ten years with success!
Twin Cities, MN (PRWEB) January 29, 2016
When working with injectables and fillers, nothing lasts forever. A new injection technique called "chemo-denervation" may be able to make your hyaluronic acid fillers last longer.
The January issue of Plastic and Reconstructive Surgery documented using hyaluronic acid fillers with botulinum toxin may prolong the results of the filler. The neuromodulator reduces muscle activity in the area, slowing down the rate the filler degrades. Eagan, MN, dermatologist Charles E. Crutchfield III, MD, agrees and says that neurotoxin injections can help achieve longer lasting results from dermal fillers. Dr. Crutchfield has been using a similar technique for over ten years with success. He is happy to see documentation of its success.
"I noticed the best results in the glabella region (the area between the eyebrows). With these patients, I inject fillers and a neurotoxin. Using this technique, fillers can last up to 300 percent longer," says Dr. Crutchfield. "I've seen amazing results when the filler is injected a week after the neurotoxin has started working. The results can be dramatic, and the effects of the neurotoxin may last longer, too."
Next time you visit your dermatologist ask if they offer "chemo-denervation" and if it's right for you. "When you have filler injected it's important to make sure that only a board certified physician does the treatment since there is a greater risk of complications," says Dr. Crutchfield. "Look for a doctor that is a member of the organization Doctors for the Practice of Safe and Ethical Aesthetic Medicine. You will have the assurance you will be seen and treated by a board-certified physician."
About Charles E. Crutchfield III, MD:
Charles E. Crutchfield III, M.D. is a graduate of the Mayo Clinic Medical School and a Clinical Professor of Dermatology at the University of Minnesota Medical School. Dr. Crutchfield is an annual selection in the "Top Doctors" issue of Mpls. St. Paul magazine. He is the only dermatologist to have been selected as a "Best Doctor for Women" by Minnesota Monthly magazine since the inception of the survey. Dr. Crutchfield has been selected as one of the "Best Doctors in America," an honor awarded to only 4% of all practicing physicians. Dr. Crutchfield is the co-author of a children's book on sun protection and dermatology textbook. He is a member of the AΩA National Medical Honor Society, an expert consultant for WebMD and CNN, and a recipient of the Karis Humanitarian Award from the Mayo Clinic School of Medicine.