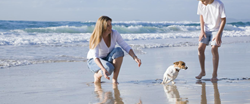 The Quieter Side of Florida
Jacksonville, Florida (PRWEB) January 30, 2016
Folks who have visited the Palm Coast of Florida will not be surprised that it has recently been voted "one of the best 50 cities to live in the country" by 24/7 Wall Street. Real Estate Scorecard sees baby boomers nationwide relocating to charming small coastal towns in Florida because they offer a big bang for the buck. Homes here average under $200,000. The warm weather year round, abundance of outdoor activities, lush tropical landscaping, ocean access, rich culture and a thriving economy with a job growth at 5% from 2012 through 2014 compared to the 1.8% national average add the to beach community's appeal.
Adorned with majestic palm trees and towering oaks, Palm Coast is situated on 70 miles of saltwater and freshwater canals between the Intracoastal Waterways (ICW) allowing for easy ocean access for boating enthusiasts via the Ponce Inlet in St. Augustine. Home shoppers will enjoy finding an abundance of waterfront properties available with deepwater dockage to satisfy the desire to spend quality time boating and fishing in this spectacular waterfront region.
Flagler Beach in Palm Coast offers 19 miles of wide hard-packed coquina sand beaches providing the ultimate retreat from the harsh winters of the east. There are over a dozen picturesque parks, 125 miles of walking and biking trails and fishing from the shoreline or from the ocean which provides additional activities for anglers nationwide. The island setting creates a great escape from the norm of cold weather climates and also provides outdoor venues to keep ambitious and age-defying Boomers active and healthy. Many who visit to the exquisite Palm Coast resorts end up coming back to shop for that ideal Palm Coast home for sale for the ultimate retirement experience.
In addition to desirable year round temperatures, there is plenty to do on the Palm Coast. Nature lovers can enjoy bird watching at St. Joe Walkway and Linear Park which are designated as Great Florida Wildlife Trails while watching dolphins happily parade along the ICW at Waterfront Park. For added excitement, from March through December, whale watching is popular as they proudly display their newborns while migrating through the region. For culinary delights, Palm Coast offers over 65 restaurant selections ranging from elegant 5-star dining to enjoying the "fresh catch of the day" found at local seafood shacks scattered throughout the region. A sunset stroll on the beach enriches the soul and offers the perfect balance to a challenging round of golf or tennis that can be played at the exclusive properties found here even in the middle of winter!
Discerning retirees can enjoy Broadway shows, symphony concerts and nationally-recognized celebrity talent at the state-of-the-art 1,000 seat Flagler Auditorium which offers first class entertainment year round. People exploring small coastal towns in Florida are rapidly relocating to the Palm Coast which has experienced a population surge of 14.8% in the last 5 years which has created a demand for that perfect Palm Coast home for sale.
Whether it's fishing, boating, tennis, golf, hiking, biking, bird watching or sunset cruises, active seniors have discovered the rich and fulfilling life that the Palm Coast offers its residents. Visitors often become locals which is one of the reasons that Palm Coast Florida has made the "Best 50 Cities to Live in America" list.
Real Estate Scorecard reminds folks now is a great time to explore Palm Coast Florida, where the weather is warmer and the skies are bright blue.
About Real Estate Scorecard:
Real Estate Scorecard writes unbiased real estate reviews providing in-depth information about popular gated communities in Florida, Georgia, the Carolinas, Tennessee and Central America, all in an effort to help people discover where to retire in the South.
Website: http://realestatescorecard.com