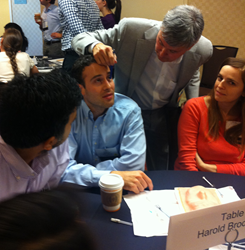 Rolling Meadows, Ill. (PRWEB) February 01, 2016
The American Society for Dermatologic Surgery is furthering its leadership role in enhancing cosmetic medical training for residents by offering a second annual symposium this spring focusing on patient safety and achieving optimal cosmetic outcomes.
ASDS President Naomi Lawrence, M.D., said the 2016 Premier Annual Resident Cosmetic Symposium – taking place April 15 to 17 in Dallas – is a prime example of ASDS delivering on its commitment to help residents gain the knowledge and training they need to become proficient at performing cosmetic medical procedures.
"Many residency programs struggle to provide the needed resources to effectively cover the training for the cosmetic side of dermatology practices," said Lawrence. "Taking steps to fill the training gaps in the ever-evolving array of cosmetic medical procedures will help ensure dermatologic surgeons of the future are prepared to deliver optimal results for their patients."
The Society's commitment to enriching resident education is evident on multiple fronts.
The ASDS Visiting Professor Program sends renowned experts in dermatologic surgery to share their experience at residency programs – supplementing the education residents receive – at no cost to their institutions.
Residents also can access vast educational resources on Quest, the ASDS digital knowledge network. This includes the ResQ procedural dermatology review that poses hundreds of sample board questions to assist residents who are preparing for exams and a dozen fundamentals lectures.
The Society also maintains a comprehensive database of all dermatologic surgical fellowships in the United States, including the rigorous programs that are part of the ASDS Cosmetic Dermatologic Surgery Fellowship Accreditation Program launched in 2013.
With ASDS offering 100 scholarships for this year's Cosmetic Symposium, residents have a valuable opportunity to strengthen their foundations in the anatomy of beauty, fat-reducing and acne scar injectables, soft-tissue fillers and neuromodulators, peels and cosmeceuticals, vein treatments, laser and energy-based rejuvenation, and body contouring.
Last year's Cosmetic Symposium was met with glowing reviews.
The 2015 symposium was "without a doubt the most well-coordinated, relevant and practical conference I have attended in all of residency," said Cindy Chambers, M.D., of Sacramento, Calif. "The lectures were fantastic and covered in-depth the full breadth of cosmetic procedures I hope to incorporate into my future practice."
Jonathan Weiss, M.D., of Miami, was similarly impressed. "This was an excellent opportunity to learn procedural techniques from some of the masters in the field," Weiss said. "The course was very well-run and the educational experience was outstanding."
ASDS members Thomas E. Rohrer, M.D., and Susan H. Weinkle, M.D., are co-directors of the 2016 Cosmetic Symposium.
"We were thrilled with the feedback we received from last year's symposium and are energized to build upon that success with more tremendous content for residents this April," said Rohrer, who is the Society's President-Elect.
Weinkle, who is an ASDS past President, said she looks forward to a dynamic weekend of mentoring residents. "ASDS is proud to continue its role of providing dermatology residents with quality education to augment their training in cosmetic medical procedures and help prepare them to be leaders in the field," she said.
Lawrence said the Cosmetic Symposium is important to the Society and the future of the specialty. "The live patient demonstrations and hands-on training in the latest cosmetic medical procedures will help prepare these residents for real-world scenarios," she said.
About ASDS
The American Society for Dermatologic Surgery is the largest specialty organization exclusively representing dermatologic surgeons who have unique training and experience to treat the health, function and beauty of your skin. ASDS members are pioneers in the field. Many are involved in the clinical studies that bring popular treatments to revitalize skin and fill and diminish wrinkles to the forefront. Their work has helped create and enhance many of the devices that remove blemishes, hair and fat, and tighten skin. Dermatologic surgeons also are experts in skin cancer prevention, detection and treatment. As the incidence of skin cancer rises, dermatologic surgeons are committed to taking steps to minimize the life-threatening effects of this disease. For more information, visit asds.net.
Follow us:
Website: asds.net
Follow ASDS on Twitter: twitter.com/ASDSSkinExperts
Become a fan of ASDS on Facebook: facebook.com/ASDSSkinExperts
Locate a dermatologic surgeon in your area: asds.net/findadermatologist.aspx
Contact:
Jay Schwab
Communications Manager
American Society for Dermatologic Surgery
jschwab(at)asds(dot)net
847-956-9143