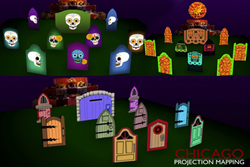 Event planners and marketing firms are really committed to giving clients what they want, said Mark Smith, Creative Director of Chicago Projection Mapping
Bensenville, IL (PRWEB) February 01, 2016
Chicago-based 3D Video projection mapping company, Chicago Projection Mapping, has recently announced an increase in the number of requests it has received to create content and to consult on new projection projects. The increase in consultation and content creation work has occurred due in large part to Chicago Projection Mapping's increasingly well-respected reputation as an industry leader in the realm of projection mapping and high-end visual content. When it comes to creating such content, there are few firms that possess the experience and expertise of Chicago Projection Mapping.
View Recent Projects on the CPM YouTube Page.
This trend also reflects a broader rise in the popularity of projection mapping as an advertising, marketing, and entertainment platform. Last year's Super Bowl Half Time Show and events like it have only increased the visibility of such technologies. Projection Mapping has become a way to spice up an ad campaign or liven up a corporate conference. However, not all firms have the expertise to effectively enact these campaigns and projects. In order to make sure that events still go off without a hitch, many companies—from marketing firms to party planning entities—will consult with or contract with Chicago Projection Mapping.
"Event planners, ad agency, and marketing firms are really committed to giving clients what they want," said Mark Smith, owner and founder of Chicago Projection Mapping. "Sometimes, though, they can get in a little over their heads. That's when we can step in to help make the animations or video content or to consult on the actual hardware setup." Smith went on to explain that many event planning agencies don't have the resources to create content on their own, so they turn to the tried and true experts at Chicago Projection Mapping.
In these cases where Chicago Projection Mapping is tapped to develop content, they are capable of creating for a wide variety of mediums. Experienced with high-end content creation all across the country, Chicago Projection Mapping can develop animation for corporate brand lunches , content for LEDs walls, 3D projection mapping displays, and video content for various needs. By consulting for meeting planners and marketing agencies, Chicago Projection Mapping is able to help those clients meet the ever-increasing demands of businesses and corporations. Every function, every event is supposed to be larger and grander.
Chicago Projection Mapping helps event organizers and marketing agencies create that scale and wonder. From corporate conferences to artistic events at nightclubs, Chicago Projection Mapping's consultation services have been called upon more and more often because of the changing demands of audiences and the extensive expertise of the staff at Chicago Projection Mapping. If you are interested in consulting with Chicago Projection Mapping, you can contact them via e. mail at Info(at)ChicagoProjectionMapping(dot)Com.
About Chicago Projection Mapping: Based in Chicago, IL, Chicago Projection Mapping is a full service content creation and 3D projection mapping company, serving the corporate, event, meeting, and convention sectors. For more information, please visit http://www.ChicagoProjectionMapping.com, or call 630-620-0000.
Main Chicago Offices 630.620.0000
Email us at Info(at)ChicagoProjectionMapping(dot)com
CPM capabilities
3D and 4D Video Projection Mapping Design
Temporary and Permanent Installation
Custom Interactive Design Capabilities
Consultation on All Aspects of Mapping Process
Show Design and Integration
In-House 2D and 3D Animation Team
Asset Reconfiguration for Brand Consistency
Integration with all major video and media formats
Custom Media Servers for flawless operation
Experience with all standard mapping hardware and software
Partnerships with regional and national hardware vendors
On-Site Setup, Mapping, and Event Operation
Remote access and operation for permanent installations
For more information, please visit http://www.ChicagoProjectionMapping.com, or call 630-620-0000