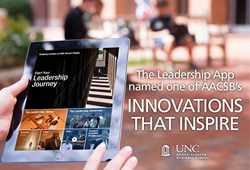 Chapel Hill, N.C. (PRWEB) February 02, 2016
AACSB International (AACSB) honored the University of North Carolina Kenan-Flagler Business School for global innovation in leadership development.
AACSB selected The Leadership App – a state-of-the-art app that markets UNC Kenan-Flagler's comprehensive Leadership Program and is a course app for its one-of-a-kind Leadership Immersion – for its "Innovations That Inspire" award.
"Innovation is part of Carolina's DNA and we are excited to see UNC's Kenan-Flagler's traditions of curricular innovation and developing leaders recognized by AACSB," said UNC-Chapel Hill Chancellor Carol L. Folt. "We want our University to be a place where innovators thrive and this award is a great indicator that we're on the right path."
The award was announced by AACSB, the global accrediting body and membership association for business schools, on Feb. 1. UNC Kenan-Flagler won in the "outreach and engagement category" and was one of just 30 schools in 14 countries selected from more than 300 submissions from 200 institutions in 35 countries.
The Leadership App markets UNC Kenan-Flagler's portfolio of leadership development programs – unmatched by any business school in the world – to students, prospective students, recruiters and the broader business community by:

Showcasing the Leadership Program's breadth and depth to attract prospective students and recruiters who hire them
Digitally guiding MBA students through its diverse offerings to create individual development plans
Featuring a Leadership Library with content from UNC Kenan-Flagler and other sources
Serving as a portal for the Leadership Immersion, an experiential course taught outside of the classroom
"Because developing leadership is an educational hallmark at UNC Kenan-Flagler and digital marketing is a critical strategy we use to attract top students, creating a digital app for leadership met our strategic and marketing priorities," said Douglas A. Shackelford, dean and Meade H. Willis Distinguished Professor of Taxation. "The Leadership App is a unique way to capture a unique program using an innovative approach that builds on our strengths in both leadership and experiential learning."
UNC Kenan-Flagler started its leadership initiative in 2005 to enhance students' career success. "The Leadership App captures our complete story for the first time and helps students gain the highest ROI on their education," said Mindy Storrie (EMBA '97), director of leadership development. "As a portal for the Leadership Immersion, students will use it to connect with course materials, classmates, faculty and executive coaches during competitions, simulations, treks to cities and Outward Bound challenges. UNC Kenan-Flagler is the only business school to offer this type of course and this kind of app."
The opportunity to develop a course app – the first ever for Carolina – was ideally suited to the Leadership Immersion, said Michael Schinelli, chief marketing officer at UNC Kenan-Flagler. "It is a mobile app for a truly mobile course designed to meet student needs for interactive digital content. The broader app captures the full range of classes, programs and activities and uses the very latest technology to guide students through their leadership journey at UNC Kenan-Flagler."
To produce the break-through app, the School worked with Mirum, a J. Walter Thompson Company, and Adobe prior to the launch of its new digital publishing tool. UNC Kenan-Flagler's app was the only education project featured with top companies in the beta project, which premiered at a New York event in July 2015.
The app is designed for iPhone, iPad and Android and can be downloaded here.
###
About the University of North Carolina Kenan-Flagler Business School
Consistently ranked one of the world's best business schools, UNC Kenan-Flagler is known for its collaborative culture that stems from its core values: excellence, leadership, integrity, community and teamwork. Professors excel at both teaching and research, and demonstrate unparalleled dedication to students. Graduates are effective, principled leaders who have the technical and managerial skills to deliver results in the global business environment. UNC Kenan-Flagler offers a rich portfolio of programs and extraordinary, real-life learning experiences: Undergraduate Business, full-time MBA, Executive MBA Programs (Evening, Weekend and global OneMBA®), online MBA@UNC, UNC-Tsinghua Dual-Degree EMBA, Master of Accounting, PhD, Executive Development, and UNC Business Essentials programs. It is home to the Frank Hawkins Kenan Institute of Private Enterprise.