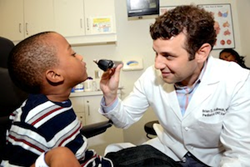 "Flu season can last through April and into May in some years, so it is important for parents to continue to take precautions with their children," said Dr. Kulbersh
Birmingham, AL (PRWEB) February 02, 2016
The Birmingham pediatricians at Pediatric ENT Associates in Alabama have learned that at the halfway point of the 2015-2016 influenza season, several states have been ranked as high on the outpatient ILI (influenza like illness) according to the Centers for Disease Control in Atlanta. Several cities and states on the east coast, including New Jersey and South Carolina, are reportedly high on the scale, at ten and nine respectively, in week 12 of the current flu season. Nationally, the proportion of ILI outpatient visits is slightly above the national baseline of 2.1%, at 2.8%.
"The length and intensity of each flu season varies from year to year, and it can be difficult to predict how severe an influenza outbreak will be until the season begins, typically around October," said pediatric ear nose and throat specialist Dr. Brian Kulbersh of Pediatric ENT Associates in Alabama.
Overall, the proportion of outpatient flu-related clinical visits are down for the current season, from roughly 6% last season, and 4.5% in 2013-2014. Geography and population density can also play a role in the incidence of flu-related illness, as in the case of New York, where the statewide concentration is level 1, but New York City ranked higher at level 6.
"Flu season can last through April and into May in some years, so it is important for parents to continue to take precautions with their children, such as encouraging frequent hand washing, avoiding sick friends and classmates, and keeping them home from school if they become sick and scheduling an appointment with a pediatrician at the onset of flu-like symptoms," added Dr. Kulbersh.
Pediatric ENT Associates is comprised of five doctors who specialize in the diagnosis and treatment of a full range pediatric ear, nose, and throat conditions in Birmingham, Alabama. Dr. Brian J. Wiatrak, Dr. Audie Woolley, Dr. J. Scott Hill, Dr. Nicholas J. Smith, and Dr. Brian Kulbersh are all fully board-certified and have an up-to-date medical license from the state of Alabama. These doctors provide care for children of all ages experiencing ear, nose, and throat conditions, including cochlear implants, tonsillectomies, vascular malformation treatment, myringotomy tubes, and more. In addition, Pediatric ENT Associates uses the Children's of Alabama hospital to provide medical care and a nearby outpatient center for further treatment. Pediatric ENT's doctors are regularly published in peer-reviewed medical journals and provide both national and regional lectures. For more information, please visit http://www.pediatricentassociates.com.