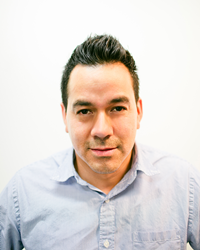 Los Angeles, CA (PRWEB) February 01, 2016
Omelet (http://www.omeletla.com) announced today that Ricardo Diaz has joined the LA-based creative shop as Executive Digital Director. Diaz joins the company from the leadership team at Zambezi, Inc. and more than six years as Director of Creative Technology at TBWA\Chiat\Day Los Angeles. In his position and as a member of Omelet's 8-person executive team, Diaz will be critical in helping the company grow and shape its digital discipline while also working closely with the creative and strategy teams to continue to inspire innovative ideas for the digital world.
"Omelet has always been very successful in helping clients innovate brand campaigns in the digital space. Ricardo is a world-class technology thought leader and we're very excited to bring his unique expertise on board so that we can accelerate our growth serving clients in the ever-changing digital world," said Don Kurz, Omelet's Chairman & CEO.
Bringing more than 20 years of experience to his new position, Diaz has previously spent time with agencies including Zambezi, Inc., TBWA\Chiat\Day, and The Cannery where he led digital development and award-winning work for brands including Pepsi, Gatorade, Nissan, the GRAMMYs, and TaylorMade Golf.
Outside of his professional endeavors, Diaz – a native Angeleno – enjoys mentoring students in community-run hackathons and hanging out with his 5-month-old son, whom he calls his "best production and biggest inspiration."
"I've had my eye on Omelet for many years. With their brave creative work and bold personality – both internally and externally – they emerged quite a few years ago as a serious contender in the industry," explained Ricardo Diaz. "Their mere energy is palpable and I'm excited to work with a team that's going to continue pushing creative and technology to bigger and better heights."
About Omelet:
Omelet is a creative company that solves complex marketing problems for progressive partners, including AT&T, Bravo, Microsoft, Ubisoft, and Walmart. The company also has divisions – including Omelet Studio, Omelet To Go, and Omelet Brands – to create original brand programming, live interactive experiences, and original owned intellectual property.
http://www.omeletla.com
Contact:
Devin Desjarlais
Omelet Director of Communications
devin[dot]desjarlais[at]omeletla[dot]com
424-672-8606