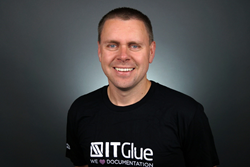 Los Angeles, CA (PRWEB) February 02, 2016
IT Glue is delighted to announce the addition of industry veteran Phill Claxton to the position of Chief Operating Officer (COO). Claxton will provide an important role within IT Glue, looking after the rapidly expanding Marketing, Support, Engagement and Development functions.
IT Glue is a highly successful documentation software company for the MSP community. Within the last 12 months, it has rapidly grow to over a 1,000 customers and is expected to continue its exceptional growth in 2016 as it expands into new markets.
Chris Day, Founder and CEO of IT Glue, has worked over the last months to assemble a team to take the business to the next level. He and Claxton have both worked side-by-side in the industry for the past several years. Claxton is best-known for co-founding the highly successful client portal software, DeskDirector. Both have a have a wealth of experience and knowledge between them in running SaaS businesses and highly successful MSPs. "I have worked closely and shared ideas with Phill for many years. I am thrilled to have such a well-respected, innovative and inspiring leader join us in this essential role." says Day.
Claxton is excited about the new opportunity and already has a clear vision of some of the things that he and Day are keen to achieve. "IT Glue is an amazing platform and we can't wait to bring on new RMM integrations in the early part of this year. We are also excited about creating an IT Glue community to allow our partners to get the most out of their documentation experience. I can't wait to see where we take IT Glue and our partners next." says Claxton.