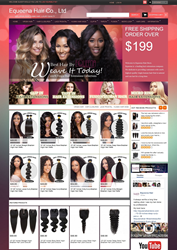 Equeena are committed to providing customers 100% virgin hair products without any other hair mixed.
Shanghai (PRWEB) August 30, 2016
Equeena is excited to announce its online hair store: https://equeenahairstore.com/ launched recently, the official online store for top quality hair brand Equeena. The store offers an effective one-stop shopping for human hair extensions, human hair weave, lace closure and other hairpieces. Customers can shop an extensive selection of premium quality virgin hair products at an affordable price.
Equeena will update the latest status, promotion as well as hair related post in 5 popular social medias - Facebook, Instagram, Twitter, Youtube and Google+. "We are too thrilled about the launching of our online store. Our QC team has built a strict quality-monitoring framework to control the raw material quality to make sure that our hair products are in top quality. At the same time, our engineers continue to improve the shopping experience and security that it brings to every customer. Thanks for all their hard work, which make the things happened" Said Sam Wong, the founder of Equeena Hair Co.,Ltd. "We are committed to providing customers 100% virgin hair products without any other hair mixed."
WHAT EQUEENA DOES AND THE AIM
"Elegance and Affordable Price"
Hair in the black community is a complicate. Black women are hardly born with a full head of beautiful long hair. They yearn for hair, especially real human hair that can last for a long time. Straight hair and curly/wavy hair have been seen as elegant and fashionable. However, the cost of real human hair is prohibitive. Equeena is offering customers new elegant hairstyle at an affordable price by reducing complicate mid-procedures and distributors, making it super easy to get luxurious virgin hair products.
ABOUT EQUEENA HAIR SOURCE
Equeena is a leading provider of human hair products around the world. They ensure all the hair products are 100% virgin hair, which comes directly from one donor. This means the hair cuticles are keeping intact and in the same direction. It is the key to making their hair products no shedding, tangling free as well as smooth from the top to the end. Besides, 100% virgin hair without any acid treatment definitely has a longer lifespan than other hair source.
ABOUT EQUEENA ONLINE STORE
Convenient shopping experience
The store is designed with a clear layout and navigation includes different products collections, hair care, customer service as well as all the information customers want to know before ordering, which help customers easily find what they would like to purchase.
100% Safe and security
Equeena are aware that the security of customer's private information from the use of online store is an important concern. To ensure customer shopping experience is 100% safe and security, the store is designed to use 128-bit Secure Socket Layer (SSL) encryption. Equeena promise that all the customer's information would be used for the purpose of shopping only.
14-Day free return & exchange
Equeena have established a mature supply-chain machine, a development machine, a quality control machine, a branding machine, a go-to-market machine and they are extremely positive about what they sell at the online hair store. Thus, there is a 14-day free return and exchange, which makes sure the best shopping experience and protects rights of online customers.