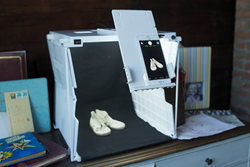 "We are very excited to show our market ready SHOTBOX to the Rootstech audience this year. Last year we had incredible interest with just our early prototype" Michael Hohl - SHOTBOX
SALT LAKE CITY, UT (PRWEB) February 01, 2016
Last year, SHOTBOX demonstrated the prototype model, which created non-stop crowds throughout the conference. This year SHOTBOX will have the final version of its photo light studio on display, demonstrating how to take perfect pictures of family history documents such as photos, photo albums and solution to get rid of glare, journals and family heirlooms that need to be digitized and preserved.
Aaron Johnson, SHOTBOX Inventor and Founder, said, "RootsTech attendees are the perfect audience and customer for our portable photo light studio. It was designed to take pictures of documents and photos much faster than using a traditional scanner. We are really excited to be there again and show our final version of the SHOTBOX."
Not only will products be available but SHOTBOX will be signing up blogger affiliates, resellers and international partners who would like to sell SHOTBOX through their various channels.
About SHOTBOX: Based in Salt Lake City, UT the SHOTBOX is a Collapsible Tabletop Photo Light Studio that uses high-powered LEDs to create a perfectly lit "micro-studio" environment to get great images with any camera, including smart devices. It is engineered to take perfect pictures of family photos, journals and objects to digitize and store on sites such as familysearch.com and ancestry.com. For more information go to http://www.shotbox.me or follow us on twitter @shotboxme Click here to see youtube
About Rootstech: RootsTech is a global family history event, where people of all ages learn to discover, share, and celebrate their family connections across generations through technology. Over 23,000 registered attendees from 49 U.S. states and 39 countries will be attending and an estimated 150,000+ of live-streaming viewers on RootsTech. For more information go to http://www.rootstech.org or follow on Twitter @RootsTechConf #RootsTech
CONTACT INFORMATION:
Michael Hohl
801-710-8557
mhohl(at)shotbox(dot)me
http://www.shotbox.me