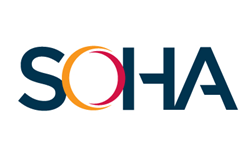 Sunnyvale, CA (PRWEB) February 01, 2016
Soha Systems is hosting a complementary webinar on "Soha VPN as a Service" on February 4, 2016, at 10 a.m. PT / 1 p.m. ET. The webinar will provide a detailed examination of the Soha Cloud, which offers a radically new alternative for mobile employee and third-party access to enterprise applications, through a unified portal, with a single point of control, in any network environment.
Attendees will learn how the Soha Cloud provides a unique alternative to traditional remote access technologies such as VPNs, RDP and proxies. With the Soha Cloud, no one can get to apps directly because they are hidden from the Internet and public exposure. Its dual-cloud architecture closes all inbound firewall ports while providing authenticated end users access to only their specific applications. The webinar is designed for CIOs, CISOs, IT and security leaders, DevOps engineers and cloud application developers, who are seeking better ways to ensure their networks and applications remain secure.
The webinar will be led by Robert Berlin, senior director of Product Marketing at Soha, and by Faraz Siddiqi, manager of Systems Engineering at Soha.
Webinar registration is available at http://marketing.soha.io/acton/media/12694/soha-vpn-as-a-service.
About Soha Systems
Soha Systems is an innovator of enterprise secure access as a service for mobile employees and third parties. Our service, Soha Cloud, enables a radically new approach for secure remote access that eliminates VPNs for on-premise and cloud environments, resulting in stronger security – including multifactor authentication – faster, easier deployments and lower cost. Soha Cloud can be deployed as an application's first line of defense in minutes, instead of months, enabling a zero CapEx, low OpEx model for critical workloads deployed in data centers and hybrid cloud environments. For more information, visit http://www.soha.io and join the conversation on Twitter @SohaSystems.