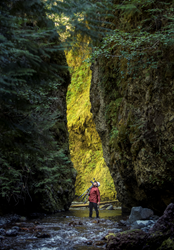 Portland, OR (PRWEB) January 31, 2016
This week, OPB will premiere a new, half-hour Oregon Field Guide special that reveals an unexplored geologic wonder in the Oregon wilderness: a hidden gorge featuring a chain of 10 waterfalls and unusual rock features such as a "slot canyon"—a deep, narrow canyon formed by water wearing through a geologic fault.
"Discovering Valhalla: Oregon's Hidden Gorge" airs Thursday, February 4 at 8:30 p.m. on OPB TV and online at watch.opb.org. In its largest, most complex expedition to date, Oregon Field Guide traveled deep into the Mount Jefferson Wilderness Area to explore and bring back the first images of the gorge.
The expedition is a result of a discovery by retired U.S. Forest Service employee Mike Malone in the summer of 2010.
While working as a helicopter manager on the View Lake Complex fire, thick smoke forced Malone take a detour and fly low over the Mount Jefferson Wilderness Area. As he flew over the treetops, he happened to look down and see what he thought was a slot canyon. Malone also noted a large waterfall at the top of the canyon that he estimated to be 100 feet high.
After his initial discovery, Malone recruited a friend to go into the wilderness with him—only to be stopped by a large waterfall they could not get past. Four years later, Malone and his experienced climbing friends finally reached the slot canyon he'd glimpsed at from the air. He named it "Valhalla" after the mythic Norse "Hall of the Slain."
He shared his discovery exclusively with OPB, and Oregon Field Guide assembled a team for an expedition in July 2015 to document the gorge, including the slot canyon and impressive series of waterfalls. The canyon's isolation and extreme conditions would make it one of the most dangerous projects Oregon Field Guide has ever filmed.
The expedition team of 24 individuals included:
•Retired Forest Service employee Mike Malone and his son Sean Malone
•OPB Producer Jule Gilfillan, OPB Senior Videographer Todd Sonflieth and OPB Videographer Michael Bendixen.
•Mount St. Helens Volcano Rescue member and backcountry guide Jared Smith and his volcano rescue partner Mike Williams.

Uncage the Soul adventure photographers John Waller and Ben Canales.
"Ascending the Giants" arborist and rigger Brian French
Safety rigger and arborist Benjamin Trapanese.
After two brief scout trips and some aerial reconnaissance, the "canyon crew" of Valhalla explorers navigated the canyon from the 100-foot waterfall Malone first saw from the air, all the way down through the "Gates of Valhalla" slot canyon entrance. What they discovered were towering moss-covered cliffs that rose straight-up from the riverbed and several waterfalls, topped with a wide glade fed by two 100-foot waterfalls from two different streams. The explorers named this area "Shangri-La." They also discovered a vaulted grotto fringed with ferns and trees deep inside the canyon, which they named "Cathedral Garden."
"Discovering Valhalla: Oregon's Hidden Gorge" reveals the never-before-seen footage of the canyon and its impressive number of waterfalls. It recounts the story of the canyon's discovery by Malone, and illuminates the impact of finding what was once an undocumented gem in the heart of Oregon's wilderness. It also highlights the extreme dangers of exploring the canyon, which safety experts advise should only be approached by expert canyoneers.
The half-hour Oregon Field Guide documentary airs Thursday, February 4 at 8:30 p.m. on OPB TV, and will also be available to watch online at the same time at watch.opb.org.
To learn more about Valhalla, and to see photos, videos, interviews and extra features, visit http://www.opb.org/valhalla.
About Oregon Field Guide 
In its 27th season, Oregon Field Guide is a valuable source of information about outdoor recreation, ecological issues, natural resources and travel destinations across the Northwest region. Oregon Field Guide airs on OPB Thursday evenings at 8:30 p.m. and repeats on Sundays at 1:30 a.m. and 6:30 p.m. In Eastern Oregon Mountain Time, the program airs on Thursdays at 8:30 p.m. and Sundays at 6:30 p.m. Major support for Oregon Field Guide is provided by Dorothy D. Gage. Additional support by the Coit Family Foundation, Fred and Clara Dolen Charitable Foundation, Kay Kitagawa and Andy Johnson-Laird, Christine and David Vernier, and the Greenfield/Hartline Habitat Conservation Fund of the Nature Conservancy.
About OPB 
OPB is a premier provider of news and intelligent entertainment across the Northwest region. Delivering in-depth arts, culture and environment content, OPB connects communities and reaches more than 1.5 million people each week through television, radio, the Internet, and on mobile devices. OPB is one of the most supported public media organizations in the country, with members across Oregon and southern Washington. For more information, visit http://www.opb.org. 
Media Contact: Lauren Elkanich, OPB Public Relations Manager: lelkanich(at)opb(dot)org or 503.977.7751