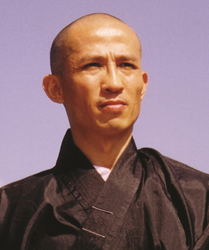 Let's flowing with the monkey mind to unveil the healing intelligence within
(PRWEB) February 02, 2016
On Feb 20th, 2016, starting from 10:00 AM, IMC (International Forum on Culture of Chinese Medicine) led by Dr. Shu Mengda, working together with SCF (Shaolin Chan Foundation) is to present Grandmaster Shi DeRu to Washington D.C. metro area communities to conduct a special seminar on Chan (Zen) Tai Gong to unveil the conscious communication channels with cosmic intelligence on this special occasion of Chinese New Year of the Fire Monkey on Bethesda Campus of Washington Waldorf School, 4800 Saganore Rd. Bethesda, MD 30816. The Chinese New Year food is provided for all who come. It is open to the public.
The 3-hour seminar is to assist each participant unveil the universal conscious intelligence within for health and happiness. "The seminar/workshop is all about the body and mind connection, communication and transformation of conscious Qi so that each participant can heal and restructure the organism within", says, DeRu, the Chan Grandmaster who conducts the seminar.
On the special opening days of the Chinese New Year of the Monkey, all participants will ride with the money mind, flowing with nature and flowing with the cosmic consciousness, freeing from life burdens and social burdens to reinvent self in connection with the universe intelligence, as the master explains.
The monkey according to Chinese is an intelligent, witty, free and inventive being without social restrictions in his imagination flowing with the universe consciousness. People who have the monkey mind as a sign are problem solvers, working with their group while simultaneously demonstrating independent character, flowing with high conscious intelligence, associated with genius and achievers, creative with high intelligence and grit.
"Let's flowing with the monkey mind to unveil the healing intelligence within", says DeRu to his organizer in meditative voice.
Within the 3-hour seminar, Master DeRu will present speeches on quantum communication in healing and body mind connection with a practical seminar on Zen meditation and Zen Tai Gong on healing potential from Chan (Zen) meditation to imagination in harmony with Cosmic Consciousness, which guides each participant to see the healing channels of microcosm of the universe in realization of greatest healing potential within, according to the organizer.
The fast pace of modern life taxes our hearts with high levels of tension and distress, but the Chan meditation seminar offers a chance to relax, and heal and reorganize one's internal organism and meet people, and satisfy spiritual longing.
The seminar is to assist each participant to see that inner consciousness and learn how to meditate and vibrate that conscious healing frequency and eventually to reconnect to that cosmic consciousness in quantum level without time and space delay. The healing and empowering is naturally carried out as the meditation starts, according to Shaolin Chan Foundation website.
Master DeRu believes that Chan is all about opening the mind and freeing the body to let each individual to flow with the universal Qi, channeling one to be creative and productive without competitiveness –developing an endless fountain of wisdom.
About the Teacher
Grand Master Shi DeRu, 31st generation indoor disciple of the venerable Great Grand Master Shi Suxi, is a world-renowned Shaolin Chan and martial arts Master, highly sought after teacher, esteemed scholar. All courses and meditation sessions will be conducted by Shi DeRu, one of the most renowned Chan student-teacher who has studied and taught Chan meditation, nutrition, medicine and healing arts for his life time.
Shaolin Chan Foundation
SCF (Shaolin Chan Foundation) is a non-profit organization under 501 (c). SCF is established to carry the ancient Shaolin Chan Culture to generations to come to enlighten, inspire and educate Chan freedom of the body and the mind and to promote Shaolin Chan culture and wisdom of peace and compassion around the world to enable each individual to unveil his/her greatest potential. The vision of SCF is to establish Life Intelligence University for all peaceful & harmonic peoples of high consciousness around the globe.
For more information: Call or Email Dr Shu: 301-320-8628, mengdashu(at)gmail(dot)com or Visit Shaolin Chan Foundation http://www.shaolinchanfoundation.org