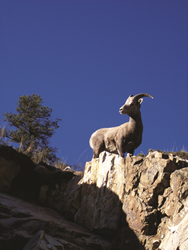 Of every dollar spent last year, WSF directed $.778 to programs benefiting wild sheep. This year's convention success will enable us to raise that conservation funding bar even higher.
Reno, NV (PRWEB) February 01, 2016
The Wild Sheep Foundation (WSF) Convention and Sporting Expo, The Sheep Show™, set several records at the recent annual event in Reno, NV, with more than 10,000 in attendance and the highest ever bid of $380,000 for a desert bighorn sheep tag.
"We are extremely excited to see our tag sell so well and thankful for the bidders and their interest in Arizona desert bighorn sheep," said Amber Munig, Big Game Management Supervisor of the Game Branch Arizona Game & Fish Department.https://www.azgfd.com. "The $380,000 is an all-time record for this tag. The funding will allow us to expand disease monitoring of various populations which informs our translocation program, and to improve water in areas that we just haven't been able to get to."
WSF's Sheep Show™ is the largest conservation and mountain hunting convention in the U.S., and features hundreds of exhibitors, entertainers and educational events, as well as online and silent auctions. Live auctions at the event featured more than $6 million in hunts, trips, art, firearms and equipment, as well as more special conservation permits than any other convention or wildlife show benefiting state, provincial and tribal wildlife agencies and their wildlife programs.
"This year's event was a huge success," said WSF President and CEO Gray Thornton. "In just the last two years, through our record conventions and donations from our membership, we've directed $8.75 million to conservation programs that benefit wild sheep populations and their habitat throughout North America and around the globe. While we are still tallying the results, we estimate the 2016 convention will exceed last year's record by a substantial margin. Pre-registrations were up 68 percent over the prior year for some events and 32 percent overall prior to opening the three-day expo."
Thornton also said the 2015 convention enabled WSF to direct nearly $4.4 Million to wild sheep conservation and mission programs. "Of every dollar spent last year, WSF directed $.778 to programs benefiting wild sheep. This year's convention success will enable us to raise that conservation funding bar even higher," said Thornton.
In addition to exhibits and auctions, the evening events featured speakers including Patrick Scrogin of Sheep Shape TV, Shane Mahoney, CEO of Conservation Visions, and Ron Raboud, Founder & CEO of Wounded Warrior Outdoors. Mark "OZ" Geist, a co-author of the best- selling novel "13 Hours – The Inside Account of What Really Happened in Benghazi," was the keynote speaker (http://premierespeakers.com/mark_geist/bio). The hit movie based on the book is currently in theaters http://www.thirteenhoursmovie.com .
"Geist mesmerized the crowd of more than 1,500 during the Grand Finale Banquet," said Thornton. "He received several presentation-stopping standing ovations and we presented him with a Life Membership to the Foundation and welcomed him into the WSF family."
For more information on the WSF, visit http://www.wildsheepfoundation.org.
###
The Wild Sheep Foundation, formerly the Foundation for North American Wild Sheep, was founded in 1977 by wild sheep conservationists and enthusiasts. WSF's Mission is to enhance wild sheep populations, promote professional wildlife management, and educate the public and youth on sustainable use and the conservation benefits of hunting while promoting the interests of the hunter and all stakeholders. With a membership of more than 6,000 worldwide and a Chapter and Affiliate network in North America and Europe, WSF is the premier advocate for wild sheep, other mountain wildlife, their habitats and their conservation. Since forming in 1977, the Wild Sheep Foundation and its chapters and affiliates have raised and expended more than $110 million on conservation, education and conservation advocacy programs in North America, Europe and Asia towards its purpose to "Put and Keep Sheep On the Mountain"™. These and other efforts have resulted in a three-fold increase in bighorn sheep populations in North America from their historic 1950-60s lows of 25,000 to 85,000 today. WSF, its Chapters, Affiliates and agency partners are also working together to ensure thinhorn sheep thrive in their northern mountain realms for generations to enjoy.