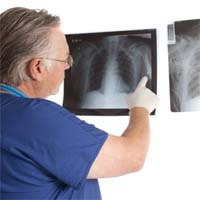 Raleigh, NC (PRWEB) February 01, 2016
Mesothelioma patients whose disease was confirmed by a pleural biopsy are at risk for developing tiny new tumors along the tracks where the needle or other biopsy tool was inserted. Now, an English team is running the first large-scale controlled trial of an irradiation method designed to prevent the problem. Surviving Mesothelioma has just posted an article on the new trial. Click here to read it now.
Scientists at several English hospitals are randomly assigning pleural mesothelioma patients to receive prophylactic irradiation (PIT) after a biopsy procedure or not.
"A reduction in the incidence of chest wall nodules from 15% to 5% in favour of radiotherapy 6 months after randomization would be clinically significant," writes author and oncologist Dr. Neil Bayman of Christie Hospital in Manchester.
A total of 374 mesothelioma patients will be included in the trial, according to a summary published in BMJ Open.
"The risk of new mesothelioma tumors forming after a procedure is a serious threat to mesothelioma outcomes," says Alex Strauss, Managing Editor of Surviving Mesothelioma. "It is hoped that this trial will confirm the efficacy of PIT so that more mesothelioma patients can benefit."
To better understand mesothelioma tumor seeding and the way in which PIT may help, see Preventing New Tumor "Seeding" After Mesothelioma Biopsy, now available on the Surviving Mesothelioma website.
Bayman, N et al, "Protocol for PIT: a phase III trial of propnhylactice irradiation of tracts in patients with malignant pleural mesothelioma following invasive chest wall intervention", January 27, 2016, BMJ Open, http://bmjopen.bmj.com/content/6/1/e010589.full
For nearly ten years, Surviving Mesothelioma has brought readers the most important and ground-breaking news on the causes, diagnosis and treatment of mesothelioma. All Surviving Mesothelioma news is gathered and reported directly from the peer-reviewed medical literature. Written for patients and their loved ones, Surviving Mesothelioma news helps families make more informed decisions.