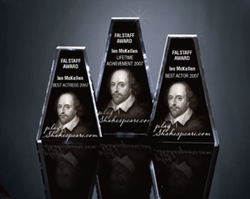 With the upcoming celebration of the 400th anniversary of Shakespeare's death, it's exciting to see how artists are approaching his works in new ways..."
(PRWEB) February 02, 2016
PlayShakespeare.com is pleased to announce the nominees and winners for the annual Falstaff Awards for 2015. With PlayShakespeare.com's international reach, reviewers worldwide have come together to honor the best in Shakespeare for the year of 2015. The Falstaff Awards recognize extraordinary achievement in the areas of Best Play, Best Director, Best Performance by a Male or Female Actor, among other performance and technical categories.
2015 saw big film stars go back to their theatrical roots performing Shakespeare. Starring in the title role in the BBC's television series Sherlock, Benedict Cumberbatch has solidified in recent years his movie star status in blockbusters such as Star Trek, The Hobbit, and The Imitation Game. He is the winner of the Falstaff Award for Best Principal Performance for his portrayal of the anguished Dane in the National Theatre's production of Hamlet.
Shakespeare auteur Kenneth Branagh jumped back into the the word of live theatre with the launch of the Kenneth Branagh Theatre Company (KBTC). Branagh brought many of his usual collaborators to create a well-received season of performances starring Judi Dench, Derek Jacobi, Adrian Lester and others.
This year's most awarded production was the KBTC's The Winter's Tale. This dreamy production took home four awards, including Best Play, Best Supporting Performance (Judi Dench), Best Lighting Design (Neil Austin), and Best Costume Design (Christopher Oram). It also garnered seven nominations for Best Principal Performance (Kenneth Branagh), Best Supporting Performance (Michael Pennington, Jessie Buckley), Best Director (Rob Ashford), Best Scenic Design (Christopher Oram), Best Sound Design (Patrick Doyle), and Best Choreography (Rob Ashford).
The Best Director award was a strong category this year with nominees from the Oregon Shakespeare Festival, Royal Shakespeare Company, National Theatre, and KBTC. The standout production for its inventiveness and fresh elements was Henry IV, Parts 1 and 2 at the Royal Shakespeare Company, directed by Gregory Doran. Notable nominees include Lyndsey Turner for her stylish production of Hamlet starring Cumberbatch and Joseph Haj for his ambitious adaptation of Pericles in Ashland.
The big Shakespeare film of the year was Justin Kurzel's Macbeth starring Michael Fassbender and Marion Cotillard as the murderous couple. Not without it's flaws, this production (and Fassbender's role in the Steve Jobs film) helped bring a new audience to Shakespeare. Fassbender and Cotillard are a great match in this picturesque adaptation. Shakespeare Uncovered, nominated in the Best Film or DVD category, continued with its second season with well-known actors taking us on a journey through their world of Shakespeare. Christopher Plummer discusses his performance as King Lear, Kim Cattrall shares her experience in twice performing Cleopatra, and Morgan Freeman gives a fascinating account of taking on The Taming of the Shrew's Petruchio.
The award for Best Script Adaptation/Dramaturgy goes to Geoff Hoyle and David Ford for their groundbreaking solo production, Lear's Shadow, where Hoyle plays King Lear's fool looking back on the events of the Shakespeare's play and bringing his retrospective insight and manic dark humor to bear on them.
The Falstaff Awards honor the release of Oxford Illustrated Shakespeare Dictionary, a beautifully illustrated dictionary by father-son team David and Ben Crystal, which distills their bestselling book Shakespeare's Words into a handy, attractive guide for Shakespeare students and fans. "Yearly" nominations for Best Book, Publication, or Recording include James Shapiro's The Year of Lear: Shakespeare in 1606 and Anthony Sher's Year of the Fat Knight: The Falstaff Diaries.
Of note is the Lear Award for Lifetime Achievement was awarded to Brian Blessed in recognition of his lifelong contribution to Shakespeare performance. Now 79, Blessed spans both stage and screen. He played Old Deuteronomy in the original premiere of the musical Cats (1981) and a number of Kenneth Branagh's Shakespeare films such as Henry V, Much Ado About Nothing, Hamlet, and As You Like It. In January 2015, Blessed collapsed onstage due to heart problems while playing Lear at the Guildford Shakespeare Company, yet he returned to finish the performance 20 minutes later. He is the oldest man to go to the North Magnetic Pole on foot, and has undertaken an expedition into the jungles of Venezuela, during which he survived a plane crash.
"Today's movie stars are embracing Shakespeare's works and bringing then to the mainstream audiences like never before. He has never been more popular or had a wider, global reach than he has today." said Ron Severdia, Founder of PlayShakespeare.com. "With the upcoming celebration of the 400th anniversary of his death, it's exciting to see how artists are approaching his works in new ways and making them even more relevant to today's audiences than ever before."