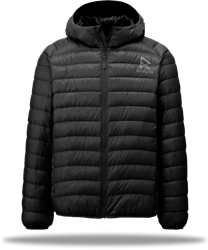 To have Jonathan present me with one of his first heated hoodies warmed my heart and my entire body. The jacket makes me feel nice and warm and I'm especially happy that my son's jackets are helping others like me who need warmth
Provo, UT (PRWEB) February 01, 2016
Ravean, the smart heated jacket, battery-free heated gloves, and heated hoodie line is becoming more than just outerwear. Ravean has also taken off in popularity with people who have trouble staying warm indoors, many of whom have illnesses that affect their body temperature.
For Ravean creative director and co-founder Jon Bybee, this hits very close to home, in fact in his home. Bybee's mother is battling terminal cancer, and her son's jacket is now providing much needed warmth and comfort.
"My mom has lost 40 pounds because of her cancer and she is always cold," said an emotional Bybee. "No matter how high she heats the house, and how many blankets she wraps herself in, she always feels a chill. When we started to hear that our jackets were being ordered by people with the same issue, we knew she had to try a Ravean - so as soon as one came off the manufacturing run in her size, we went straight to her house."
The moment that Jon delivers the jacket to his mom is captured in this heart-warming and emotional video.
"I appreciate it so much, I was afraid I was going to miss out on all this," Bybee's mom says in the video.
"I'm glad we could get this for you and I hope it helps Mom," said Bybee. "So you can be warm, plus it probably helps out with your heating bill," Bybee added, trying to add a bit of levity to the emotional moment.
"To have Jonathan present me with one of his first heated hoodies warmed my heart and my entire body. The jacket makes me feel nice and warm and I'm especially happy that my son's jackets are helping others like me who need warmth," added Bybee's mom.
Since the beginning of its very successful crowdfunding efforts which have raised more than $1.4-million from over 7,000 backers, the Ravean team discovered that their creation had a use that they didn't think of originally. Requests started coming in from people battling cancer and other illnesses that made it difficult for them to stay warm.
"I lost 40 pounds and most of that was body fat that keeps you warm and insulated, and I won't be getting it back, so this will help a lot," said Bybee's mom. "I'm always cold so this feels really really good."
About Ravean Jackets
Ravean's crowdfunding campaign was the second-most funded clothing item ever, proving a need for replacing traditional bulky winter jackets with lightweight, slim-fitting heated down jackets, that look as good as they work.
Ravean Jackets, which come with a built-in smartphone charger, solve the problem of bulky uncomfortable winter jackets with premium heated clothing that's different from anything on the market. Ravean is leading the way in a new era of smart climate-controlled winter apparel with an all-in-one solution that's perfect for unexpected temperature drops.
Ravean's performance has been validated by research at the world's leading heat testing facility. In warmth testing, Ravean's C6 Heated Jacket outperformed a top brand down jacket that is three times the weight and bulk of the slim-fitting Ravean.
The Ravean C6 Heated Jacket & Heated Glove system is engineered to keep users comfortable in temperatures ranging from -4°F up to 55°F."
Ravean's key features include:

High, medium, and low settings allow for a totally personalized level of warmth
Patented carbon heating system is literally indestructible
Heated glove connector system allows the jackets to heat to your fingertips
Lightweight 12V battery beats competitors - at just half a pound it delivers 6 hrs of heat
The same battery can recharge your portable devices up to six times over
Each model is 100% washable, 100% waterproof, and backed by a 5-year warranty.
To order the world's first heated down jacket line visit Ravean.com.
About Ravean
Let's be real here for a moment; we're not the first people to come up with the idea of heated jackets or heated gloves. We're just the first ones to do it right. By doing it right, we mean our jackets look good, they're durable, they're affordable and they integrate our technology seamlessly and unobtrusively. Finally, there's a heated jacket you can wear with equal comfort and style from the mountains to the office without missing a beat. Sure it's been tried before but other solutions have been pricey, ugly and the technology was problematic. Ravean has addressed and solved each of these issues to present jackets you can wear anywhere, that are as stylish and durable as they are warm and cozy. We can't wait to see what other uses for Ravean jackets are found.