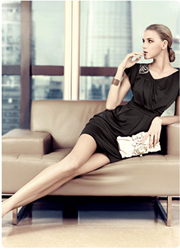 ...exclusivity, along with the club's reputation for discretion among certain circles attracts high-profile figures to SEI Club
Los Angeles, CA (PRWEB) February 02, 2016
Private, members-only dating service SEI Club which serves an exclusive clientele of successful singles now expands to Singapore.
Among the service's thousands of satisfied customers are such figures as top fashion models and the CEOs of Fortune 500 companies, an SEI Club spokesperson said. They choose SEI Club because of the service's reputation for creating lasting, fulfilling romantic relationships with its matches.
"Because of the way we rigorously screen each applicant for membership, we're able to have a pool of members that's absolutely unmatched," the spokesperson said. "We've earned the trust of the socially, financially and culturally elite of the world, and we've become the dating service they rely on to find romantic partners who are of the same high caliber as themselves." SEI Club reviews highlight member satisfaction in greater depth.
The screening process starts with a personal meeting between the applicant and a member of the SEI Club executive team. Applicants are evaluated on attractiveness, success, independence, education and sophistication, and the process also involves establishing how well they follow the "Golden Rule" of morals and ethics.
"We want to ensure that all of our members are able to be true partners in a romantic relationship," the spokesperson said. "We've found that one way we can establish that is by determining how well someone follows the Golden Rule—do they treat others in the way they wish to be treated themselves? That a great indicator of how well they will get along with other club members when pursuing real relationships." Part of what makes SEIClub.com different, is their comprehensive screening process. This ensures exclusivity and member quality.
The screening process also includes an understanding of each applicant's values, ethics and morals, as well as establishing romantic preferences and dating goals. SEI Club only accepts single people for the dating and matchmaking services, again in line with its goal of helping members find romantic partners for meaningful relationships. In the end, less than 35 percent of applicants are accepted, which ensures that only the highest quality members participate.
"We work with the most eligible singles in the world," the spokesperson said. "They expect the very best out of everything in life, including in their romantic life. By being extremely selective in whom we accept as members, we're able to meet their expectations and ensure that every member is someone with the potential to form a strong romantic relationship." SEI Club reviews highlight members' relationship success stories in depth.
Membership fees range from $1,200 for a Basic Membership and over $300,000 for Private Level Memberships. Members are always guaranteed a certain number of matches over a specific period of time. The club has also launched a completely unlimited membership option: the Million Dollar Membership.
That exclusivity, along with the club's reputation for discretion attracts high-profile figures to SEI Club, the spokesperson said. SEI Club reviews give an inside look at what some members have to say about their experiences.
"For someone in an extremely public position, such as a famous model or the CEO of a large corporation, dating can be an extremely difficult proposition. They worry about preserving the privacy of their private lives. They join SEI Club because they know we're committed to our members' privacy, and that we only accept people who are successful in their own right, and who are genuinely good people with positive moral perspectives."
Besides those requirements, such people are also extremely busy. "We respect the time of our members," the club's spokesperson said. "When they meet someone through SEI Club, they don't have to worry about meeting unsuitable matches, because we weed those out in advance. They can be confident that everyone they meet through SEI Club will be someone who shares their interests, values and relationship goals, and that they will meet interesting, engaging people who they'll want to get to know better."
The executive team members get to know members closely and produce portfolios of matches that are filled with members who are compatible and have the potential to become long-term romantic partners. SEIClub.com matches are based on a number of factors, including shared interests and values. The major key to the club's success at creating matches is that they are all created personally, the spokesperson said.
"Computer algorithms while helpful, are very limited and are never enough…the club's team is filled with experienced matchmakers who use their matchmaking experience and personal knowledge of members to create matches that pleasantly delight club members."
The club also handles the arrangements for dates, so members can simply show up and meet their match without worrying about the details in advance. Once a date is over, a member of the matchmaker team follows up with both members to evaluate how the meeting went and see if both parties are interested in getting to know each other further.
It's this proven method—personally handled matches and dedication to ensuring members have an amazing experience—that makes SEI Club the choice of successful singles, the spokesperson said.
"Our members expect excellence, and we do, as well. Our goal is to always exceed their expectations and offer them a luxurious dating and matchmaking experience that they couldn't find anywhere else." SEI Club reviews affirm this sentiment.
Because of the high-quality members and its unique matchmaking methods, SEI Club is responsible for many romantic relationships, families, marriages and lasting, long-term relationships. One of the most interesting parts of the process is the unexpected benefits that pop up, the spokesperson said.
"When two successful, fascinating people meet, almost anything can happen," the spokesperson said. "We've seen cases when a meeting ends up creating personal and professional project that no one could have predicted. We make the introduction, but it's their personal interactions that make everything else happen. We like to say that we're giving fate a helping hand."
More information is available at SEI Club
Read recent SEI CLUB REVIEWS.