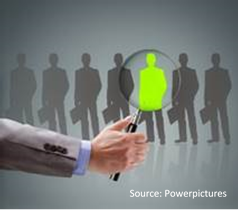 RoleFit Survey cuts recruitment time in half, and allows your company to focus ONLY on the best-matched candidates -- organizations around the world will have the opportunity to transform their recruitment process.
BOSTON, MA (PRWEB) January 31, 2016
Health Connexions™ is going global with its expanded list of services to help organizations succeed. This time, it has grown its partnership with Ascentii™ to offer Ascentii's unique RoleFit Survey™ to transform recruitment around the world.
There is a universal desire to discover the best talent, but the best can be hard to find. But that's where the RoleFit Survey steps in — RoleFit narrows down the world of possibilities to a specific "A-List" of the best matched candidates for the particular role being filled. Recruitment Redefined.
In fact, RoleFit is making history every day by creating better matches between employers and employees, and better matches between jobs and talent. Ultimately, RoleFit's matching system puts to the top of the list those employees who will stay longer, and those employees who will be more productive and happier in your organization. RoleFit provides meaningful matches that lead to successful and rewarding employment.
Because every company and every recruiter around the world struggles to balance the time recruiting takes, with trying to find the best talent, RoleFit offers a one-stop tool that rank orders the candidates via a short, competency-based survey. Because this cuts recruitment time in half, and allows an organization to focus only on the best-matched candidates -- organizations around the world will have the opportunity to transform their recruitment process.
Once the job posting has closed – it only takes one minute to produce a best-matched, ordered ranking of the candidates – providing a personal "A-List" of the candidates that are best-suited to the job which is being filled.
According to a survey by Web Recruit, even though various software tools are gaining more credibility and are increasingly becoming less expensive in this digital world, only 26% of employers use an applicant tracking system to manage their hiring and recruitment process. But RoleFit works differently than everything else. So, the real opportunity is to just leap-frog to RoleFit and truly transform recruitment, hiring and retention.
The RoleFit Survey provides a time-saving tool for employers which ultimately offers better employee satisfaction. And it is well known that better matched employees are happier employees.
And, we also know that better employee satisfaction results in better customer satisfaction and therefore better customer retention. This enhanced employee and customer satisfaction turns into higher revenues, greater profitability for the company and a stronger reputation as a 'great place to work'.
With The RoleFit Survey, before a single resume has been read, all candidates fill out a 10-minute online assessment which matches the suitability of the candidate with the particular position (the system contains over 1,200 job profiles). The individual's answers are compared to the optimum job competency profile for the specific job. Depending on the application, this tool has been proven to accurately predict the best candidates with 80% - 87% accuracy >95% of the time – effectively reducing the recruitment time for companies – and providing that "A-List" of candidates.
"The need for an efficient recruitment tool is something that haunts all employers and recruiters," stated the CEO and President of Health Connexions, Dawn Van Dam. "However, the true value of the RoleFit Survey is that the hiring manager is presented with their personal list of the best-matched candidates so only those who are right for the job get to move forward. Resume-reading is only done for these "A-List" candidates!"
A study conducted by the Society for Human Resource Management showed that 66% of companies who are hiring are having trouble finding workers for specific positions. The RoleFit Survey allows companies to use legally defensible, competency-based criteria to screen and rank an unlimited number of applicants, employees, and contractors for any job in less than one minute and before opening a single resume.
"There is nothing so compelling as an idea whose time has come; that idea is The RoleFit Survey. That time is now." – Gary L. Melling, Founder and CEO, Ascentii.
The RoleFit Survey should become a critical component of recruitment for all organizations. Learn more about the RoleFit Survey here: http://www.healthconnexions.com/news-events/webinars/the-rolefit-survey/
HEALTH CONNEXIONS
The Health Connexions™ vision is to transform science into commercial success. Health Connexions helps clients in life sciences, health care and consumer products by leveraging its extensive network and unique collaborative model in consulting, market research, technology evaluations and marketing communications services. Health Connexions also provides strategic advisory services around raising capital to fund new innovations, new opportunities, and the growth of established organizations.
Visit: http://www.healthconnexions.com/
ASCENTII
Ascentii provides public and private sector organizations with solutions that are unparalleled in Recruiting, HR, and Strategic Workforce Optimization. Who else can offer you a job-specific, competency-based solution, delivered over the Internet that screens and rank orders all applicants, regardless of how many, in less than one minute? Once we understand how a client intends to adapt our RoleFit Survey to their recruiting and staffing activities, we can have a new client running on our standard platform in approximately 15 minutes; the training for new users is as easy as a 20-minute video. Ascentii's expectation is that all new users are productive in less than one hour of having access to their new account. We have invested the equivalent of hundreds of years in research, psychological assessment, statistical analysis, employment & privacy law, IT, software design, development and testing. Why? So you don't have to. We make it easy, fast and cost-effective.
CONTACT
Dawn Van Dam
President & CEO
Health Connexions™
dawn(at)healthconnexions(dot)com
http://www.healthconnexions.com